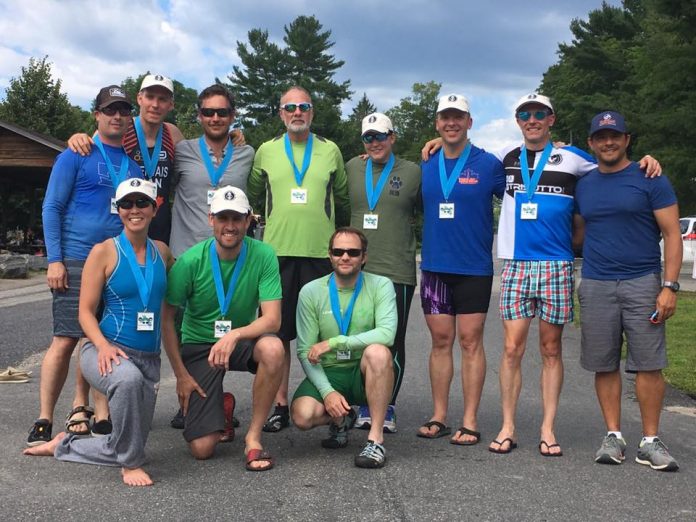 At approximately 6:30 a.m. on Saturday, July 29, 2017, six former and current competitive swimmers and triathletes jumped into the water at the Gravenhurst Wharf. Nine and a half hours later, the Organ Donor Swim relay team, along with its support team of kayakers and other volunteers, touched dryland together at Hanna Park in Port Carling, completing the 30km relay across Lake Muskoka.
The six swimmers, 2012 Canadian Olympian Zsofia Balazs, along with Scott McGrath, Scott Gervais, Wendy Chong, Nick Knezic and Ricky Jacobs, each swam a total of five kilometres to raise money and awareness for organ donation.
Throughout the day, the six swimmers completed one one-kilometer-long leg at a time until the team had collectively conquered the entire length of Lake Muskoka. With 300m to go, all five other swimmers joined Balazs to complete the final leg of the relay, which represented the collective effort of the many participants required to work together in the organ donor process.
In just its second year, the Organ Donor Swim raised over $20,000 – more than double the amount collected in the inaugural swim. The money will go to support the Kidney Foundation of Canada, as well as to send kids who have had organ transplants to Camp Kivita, a summer camp in Muskoka.
The Organ Donor Swim was inspired by Ricky Jacobs' family and friends. His father, who first experienced kidney failure in 2010, received a donor-match from his wife, however a setback has placed him back on the waiting list for a deceased organ donation. Ricky's long-time friend Gini Buckman has been living with type 1 diabetes for her entire life, and is now, at 43 years of age, in need of a kidney and a pancreas to help her live a balanced life giving back to others through her horse therapy business.
"We're fortunate to have had an incredible day filled with great energy, spirit and commitment to raise critical awareness for organ donation." said Jacobs. "The weather was cooperating, and we pushed through the last leg of the swim through the river leading into Port Carling, which we could not have done without the OPP's help, our incredible Kayakers from Ontario Sea Kayak Centre, and our volunteers and medics [who] played a key role in getting the swimmers through the 30k."
The second annual Organ Donor Swim would not have been possible without the support of its generous partners and sponsors: Walkers Point Marina, Ontario Sea Kayak Centre, Ontario Provincial Police, Toronto Fire Union, Township of Muskoka Lakes, Kidney Foundation of Canada, BelloSound.
Check out all the photos and videos from the event on the Organization's Facebook Page.
Photo Credit: Organ Donor Swim via Facebook