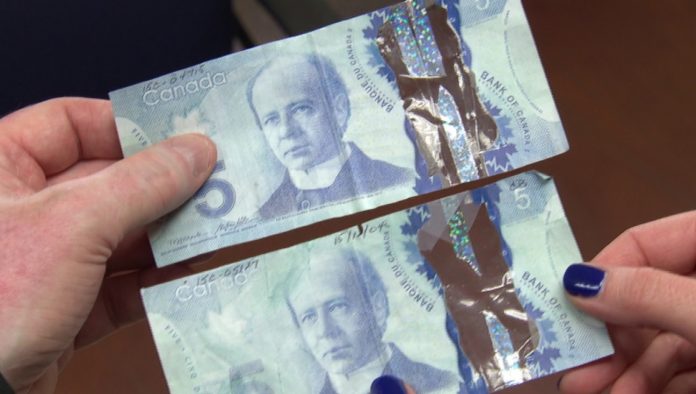 Police are warning Ontario residents of counterfeit currency making the rounds, which can leave consumers and vendors as victims in its wake.
Since the beginning of 2017, OPP have received 82 reports of counterfeit bills in its West Region alone, ranging in value from 5-dollar to 100-dollar bills in Canadian and United States banknotes.
The OPP is partnering with the Bank of Canada and the RCMP to educate citizens and business owners about how to spot counterfeit currency and what to do when they encounter fake cash. The RCMP reports 17,504 counterfeit Canadian banknotes passed in 2016 – 3,934 of those (roughly 22%) were passed in Ontario.
TIPS
When dealing with someone who is attempting to pass counterfeit bank notes, cash handlers must ensure their own safety first. Here are some things you can look for:
Be especially careful during busy periods, when counterfeit notes are more likely to be passed;
Be wary of customers who want to pay with much higher denominations of bills than needed;
If possible, keep the suspicious bank note and record all relevant information about the bill and the person, such as denomination, serial number, time, context, physical descriptions, and vehicles and licence plates;
Contact your local police service;
Give the suspicious bank note to the police and request a receipt – if the note is genuine, it will be returned to you;
Remember, someone passing a counterfeit bank note may not be aware it is phoney – he or she could also be an unwitting victim of crime.
CHECK YOUR CASH
Even with new technology, no counterfeiter is able to produce an exact duplicate of a genuine bank note – a counterfeit is always an inferior copy of the original. At first glance, a good counterfeit looks like 'the real deal.' But if you know what to look for – and feel for – it only takes a few seconds to detect a fake. Read more about Canadian bank note security features at the Bank of Canada website.
Possession, use or creation of counterfeit currency is an indictable offence punishable upon conviction by up to 14 years in prison.
Photo Credit: CBC.ca