The Bracebridge Sportsplex hosted 140 Grade 7 and 8 girls from elementary schools across Muskoka on April 25 for Opening Doors for Young Women of Muskoka, an event that aims to dispel myths and stereotypes surrounding careers in trades, technology and science while introducing young women to role models in those careers.
The Opening Doors initiative was launched in 2002 to encourage young women in Muskoka to keep their career doors open and consider careers in trades and technology. The annual event offers female students the chance to engage with role models in a variety of careers while also meeting students from other schools. The students were assigned to groups that moved together throughout the day as they learned about careers with hands-on activities and demonstrations. The young women got to encounter women in fields such as firefighting, wildlife care and education, electrical work and architecture. The students also heard a keynote speech from Mary Spencer, a civil engineer and an instructor at Georgian College, who talked about the difficulties she had in school and the nonlinear path that led her to a career in engineering. One of the goals of the event is to show students paths and opportunities they never considered, said experiential education consultant Jacki McPherson.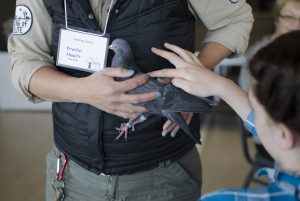 "The students are seeing opportunities in the community that they might not have known about otherwise," McPherson said. "They're seeing themselves as young women who are capable of doing trades and tech jobs because they're seeing women who are already doing that work."
McPherson also said there's an intentional diversity across the STEM careers represented at the event, so they aim for a balance between science, technology, engineering and math careers. Students who participate in coops and have local jobs are more likely to stay in those jobs, she said, so the organizers hope to see students making these connections so that they can keep their skills and knowledge in Muskoka when they're grown.
"It's really important that our community is connected to our schools and this is a great example of that," she said. "We have so many rich voices in our community that have so much to share with our students. An event like this allows that connection to happen."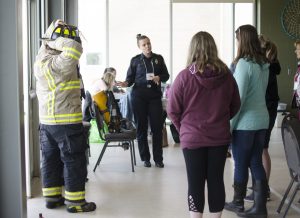 Firefighter Danielle Ryan said the Opening Doors event plays an important role in changing students' expectations surrounding their future careers.
"It's a really important opportunity to share with the girls the possibilities that are out there because I think that growing up we kind of get sold this impression that there's one specific pathway that you have to follow," Ryan said. "It's great to be able to show them the different opportunities that are available."
Ryan said it's also a great way to show the students the math and science related to a career that people see as a simple process of putting a fire out with a hose and hopes that the event will allow young women to understand that they can still do what many people would consider a job predominantly for men.