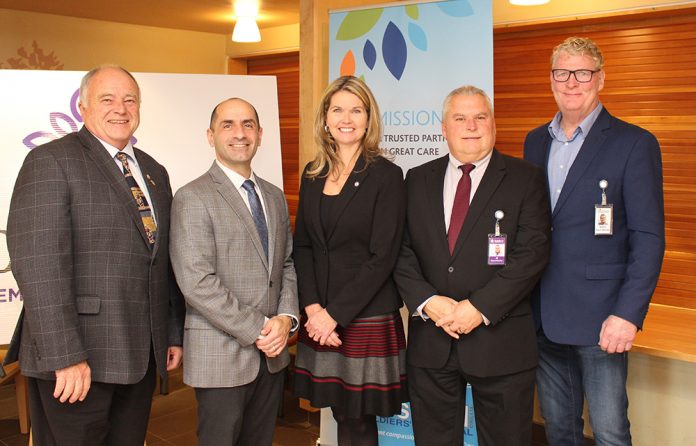 The Ontario Government has announced an additional $68 million to support small- and medium-sized hospitals, including over $3 million in funding for both Muskoka and North Simcoe hospitals.
Parry Sound-Muskoka MPP Norm Miller and Simcoe North MPP Jill Dunlop announced additional funding for their local hospitals today, including $3.19 million for Muskoka Algonquin Healthcare (MAHC) and just over $3 million for hospitals in North Simcoe. Orillia Soldiers' Memorial Hospital will receive a $1.81 million increase while Georgian Bay General Hospital will receive an additional $1.27 million.
"Our government recognizes that medium-sized hospitals were struggling under the funding formula so this funding is designed to ensure our local hospitals have the resources they need to meet the needs of our community," Miller said. "This new investment in Muskoka Algonquin Healthcare will help deliver on our commitment to end hallway health care."
Miller also announced $1.6 million in additional funding for West Parry Sound Health Centre. The investment is part of a province-wide funding increase of one per cent for 66 small-sized hospitals, 1.5 per cent for 23 medium-sized and multi-site hospitals, and targeted funding to assist with unique situations and historical funding challenges. 
"This announcement is great news for our communities in Muskoka and area, and helps MAHC to ease our operating pressures," said MAHC CEO Natalie Bubela. "We appreciate the ongoing advocacy by Mr. Miller for our medium-sized, multi-site hospital and the support of the North Simcoe Muskoka LHIN, Minister of Health and provincial government in affording us to focus on what we do best – providing outstanding integrated health care to our communities."
The investment announced today is on top of the $384 million that Ontario hospitals have received as part of the province's 2019 budget.
 "Ontario has a comprehensive plan to end hallway health care," said Deputy Premier and Minister of Health Christine Elliott. "Working with our hospital partners, we are fixing long-standing issues with how hospitals are funded that disadvantaged small- and medium-sized hospitals."