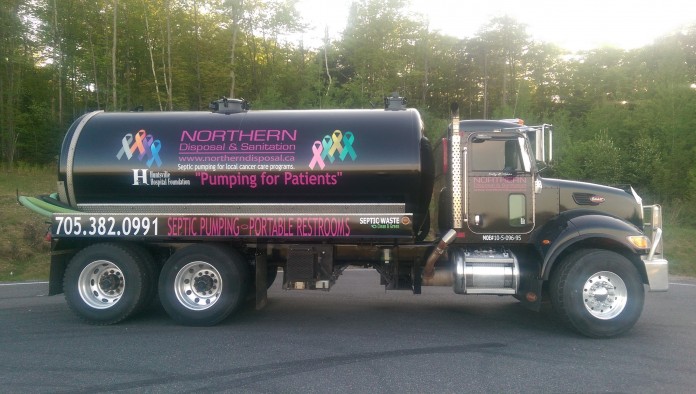 Katy and Dave McGregor know first-hand what it's like for a community to lose a hospital – it happened in Burk's Falls and they don't want to see it happen in Huntsville.
"The Huntsville hospital has been there for us," says Katy. "Our daughter Nikki was born there by caesarean, I had kidney stones, and we've been through the emergency department multiple times – why not give back?"
It's why their company, Northern Disposal & Sanitation, recently joined the Huntsville Hospital Foundation's Business Cares initiative, committing $25,000 over the next five years to support healthcare in our community. The goal of Business Cares is to have 40 or more local companies contribute and collectively raise $1 million dollars for the Foundation.
Katy and Dave didn't need convincing to lend their support to the campaign. Two years ago, Northern Disposal and Sanitation launched the Pumping for Patients program to contribute a portion of their profits to the hospital's cancer care and diagnostic programs – after consulting with the Huntsville Hospital Foundation, they added pink portable washrooms to their fleet and painted their septic truck in new colours to promote the program.
Since then, they've donated five dollars from each rental of one of the pink portable washrooms and $10 every time they pump a client's septic tank. In just two years, Pumping for Patients has contributed $6,300 to the Foundation.
"I've lost my brother and family members to cancer and so has Dave, so we know how much need there is," says Katy. "And our clients have mentioned how good it feels knowing that they're contributing to the program, too. We are grateful for their support."
Now in their 10th year of business, Northern Disposal & Sanitation has decked out their new, black septic truck with ribbons representing the many forms of cancer to raise awareness for the need to support healthcare locally. They've christened the truck Miss Nikki, after their 10-year-old daughter, who is proud of her family's commitment to their community.
In 2008, Northern Disposal & Sanitation was named New Business of the Year, and in 2011 the company received a Young Entrepreneur of the Year Award at the Northern Ontario Business Awards. In 2015, Katy was named a YWCA Woman of Distinction for Business Innovation and Entrepreneurship.
Katy is a Rotarian and the company sponsors youth soccer teams, sporting events and local fundraisers. They also offer a non-profit rental rate for their portable toilets for charity events.
"I don't think enough people realize the importance of giving back," says Katy. "There are always unique ways to do it."