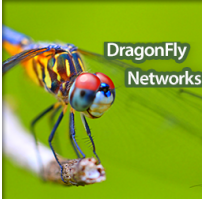 DragonFly Networks will be a Muskoka based company focussed on serving the Muskoka residents and business alike. This project will provide Huntsville, and surrounding areas, Lake of Bays-Baysville-Port Syndney, with TrueHigh Speed Internet and auxiliary services to both businesses and residents.
Dragon Fly Networks is now entering the site testing phase.  It is important to DFN to ensure that the service level of a 100 Mbps minimum speed is deliverable to all customers.  DFN will begin running performance / site testing in the next two weeks in order to have the data to assure customers of the service levels as well as finalise the required equipment for the customer premise.
Customers will be able to choose from an entry level package that delivers 100 Mbps download and 20+ Mbps upload as minimum upto 1 Gbps using our AirFiber technology.  All package will come with unlimited data so there will be no worries on the part of the
Rometheis Wize as the Solutions Architect will attend the Huntsville Planning Committee meeting on Wednesday October 11, 2017 at 10am to speak to a number of questions that affect the business startup and potential clients. The purpose is to seek clarification as to some procedural matters as well as openness to certain exemptions.Some points of clarification are,
Huntsville Bylaw states that as long as a resident has a 5 acre property and stays within 500′ of a property line there is no height restriction to a communications tower for say a satellite dish however the Protocol for Radio and Telecommunications Facilities indicates that anything over 15 meters or 49 feet and under 30 meters or 98 feet require the planning committee's / towns approval for exemption from public consultation; a 120 day process.  Current simulations indicate a number of potential clients in the Huntsville and surrounding areas would require a Dish Mast of 15-20 meters in order to use DragonFly Networks, DFN, services.   DFN is seeking an openness to a general exemption by default for residents who seek to engage in DFN's TrueHigh Speed Internet services.
DragonFly Networks is carefully choosing tower locations in order to get the optimal coverage using the least amount of towers.  In order to use the least amount of towers, the tower heights have to be upto 40 meters or ~130 feet.  DFN is seeking to get an indication from the Huntsville Panning Committee if they would consider offering an exemption from Public Consultation for the first 3 towers, so long as such towers are installed within the currently enacted bylaws.    DFN is not trying to avoid Public Consultation as it wants buy-in from all interested parties however as a startup who is trying to get the business and services started as quickly as possible with limited financial resources compared to a Bell, Rogers or Telus, an exemption would go a long way.
DFN is seeking clarification from the Huntsville Planning Committee Considering the preliminary details of the business startup and tower raising efforts, what materials and/or applications they will require in order to provide an green light to raise towers and offer exemptions from public consultation whether the towers are 30 or 40 meters.  Further DFN would be seeking a timeline for whatever p[process is communicated in order to determine if the services could potential start to be delivered to residents as early as December 2017.
For more information visit http://dragonflynetworks.ca