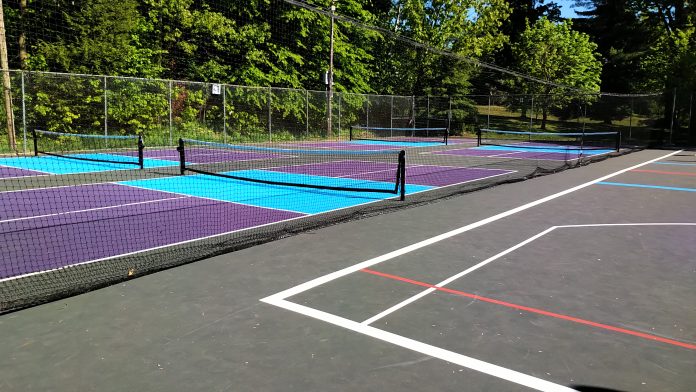 After a month of construction, and following the guidance provided by the Government of Ontario and the Simcoe Muskoka District Health Unit, the Town of Bracebridge is opening the new multi-sport court at Kelvin Grove Park on Friday, May 28, 2021.
After two (2) years of community consultation, pickleball, basketball and ball hockey enthusiasts have courts to play on.
The multi-sport court, previously two public tennis courts and home to the Bracebridge Tennis Club, have been refurbished and now offer:
four (4) pickleball courts; and
one (1) combined basketball and ball hockey court.
Four (4) pickleball courts are on the east side of the multi-sport court and a basketball/ball hockey court is on the west side. This new multi-sport court will allow up to four games of pickleball and a game of basketball or ball hockey to occur simultaneously. "The new multi-sport court provides people of all ages and abilities the opportunity to participate in outdoor recreation activities not presently available in Bracebridge," stated Mayor Graydon Smith. "These courts are also important as we encourage people to spend time outdoors as we move safely out of this pandemic".
Tennis players and members of the Bracebridge Tennis Club will soon be able to enjoy four (4) tennis courts, one (1) court is overlaid with a pickleball lines, at James W. Kerr Park. The courts are presently under construction and are scheduled to be open in early June.
Thanks to input from pickleball players, South Muskoka Minor Hockey Association, the South Muskoka Breakers Basketball Club, the Bracebridge Tennis Club and other community organizations and individuals, the facilities at Kelvin Grove Park and James W. Kerr Park have been realized.
The multi-sport court at Kelvin Grove Park is open from 6:00 a.m. to 11:00 p.m. and parking is available directly adjacent to the courts, as well as, at the lower level parking lot.
James W. Kerr Park will be open from 6:00 a.m. to 11:00 p.m.
All participants are to follow the COVID-19 guidelines posted, as well as the Town of Bracebridge Code of Conduct, as attached as Appendix "A". The current Province of Ontario COVID-19 Road Map to reopen provides further information on Regulation 344/21 relating to outdoor recreation.