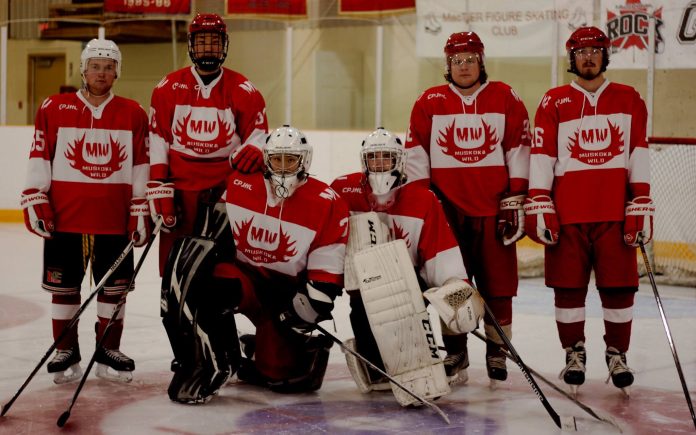 November, 3 2016
Coming off of two consecutive road wins, the Muskoka Wild return home this Friday to kick off an important stretch of three games in three nights.  The puck drops in Port Carling at 8pm on Friday November 4th, as the Wild take on Essa Stallions (6-5-0-2). Saturday evening sees the second-place Grey Highlands Hawks (8-5-0) in town for a 7:30pm matchup, before the Wild travel to Seaforth for their Sunday evening contest.
With a road-heavy schedule to begin the season, the Wild are playing only their fourth and fifth home games of the season.  The month of November sees a number of home games scheduled, and players on the Wild are looking for local fans to come out this weekend to provide their support, helping to instill a true home-ice advantage as Muskoka looks to expand on their league-leading record of 10-1-0.
Muskoka's only loss this season came in the form of a forfeit against the Hawks on October 23 as injuries left too thin a roster, which has Head Coach and General Manager Scott Baker looking forward to the rematch but, for now, the team remains focused on Friday's game against Essa.  Baker commented that, "the Wild are ready for a competitive game against the Hawks, but for now we have to keep our minds focused on the talented group of skaters in Essa."
A full weekend schedule for the Canadian Premier Junior Hockey League can be found at: http://www.cpjhl.com/
Match-Up Analysis
Friday, November 4 – 8:00pm @ Port Carling Arena vs. Essa Stallions
The Essa Stallions organization is fast and plays with a combination of skill and toughness. The Wild must respect their ability to skate through the neutral zone and attack with speed. Essa has a few game changers on their roster, so the Wild need to prepare appropriately for Friday. Baker has pockets of sureness though; "our goaltending has been terrific against Essa, and all year so I have most confidence in Kyle Droge to have a quality performance for our club."
Saturday, November 5 –7:30pm @ Port Carling Arena vs. Grey Highland Hawks
Baker is really looking forward to hosting Grey Highlands on Saturday night in Port Carling; "they're on a nice roll with regards to winning hockey games and team bonding." The Hawks have some talented skaters who compete hard for the entire game. To be victorious the Wild needs to bring its best effort and continue to appreciate the value of defensive zone awareness. Muskoka's offence has been very consistent for the first quarter of our season. Team captain Devin Gates (18pts) and assistant captain Angus Macgibbon (22pts) have been producing points with the league leaders, and Baker believes that the Wild's entire forward core can consistently produce points.
Join Our Community
Twitter – http://twitter.com/MuskokaWild
Facebook – http://facebook.com/MuskokaWild