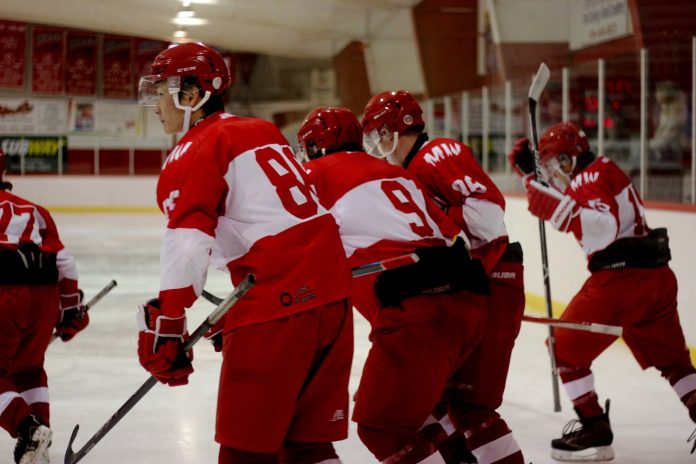 The Wild return to the ice tonight for back-to-back games against the Seaforth Generals and Grey Highland Hawks.  Muskoka remains in control of the West Division, and their record of 17-2-1 through 20 games places them atop the CPJHL as the season nears the midway mark.
Friday evening sees the Wild take on the Generals (3-21-0) with puck drop scheduled for 8:00pm at the Seaforth & District Community Centre.  Their last meeting was on November 6, with the Wild taking the 6-0 victory.  Kyle Droge made 27 saves for the shutout, while Jesse McLeod led the offensive charge with a hat trick.
The Wild return to home ice Saturday evening against the Hawks (A quick turnaround sees the Wild in Markdale on Sunday afternoon for a 2:30pm contest against the second place Hawks (15-9-0).  Their last contest was last Sunday, which saw the Wild take a 9-6 victory in Markdale.  In one of his more dominating peformances, Angus MacGibbon scored 5 points (1G; 4A), while both Justice Corbiere (2G; 1A) and Masaki Wantanabe (1G; 1A) has multi-point games.
A full weekend scheduled for the Canadian Premier Junior Hockey League can be found at www.cpjhl.com.
Match-Up Analysis with General Manager / Head Coach Scott Baker
Friday, December 9 – 8:00pm @ Seaforth & District Community Centre vs. Seaforth Generals
In order for our club to be most successful on Friday, we must have a strong forecheck so that we can manage the puck in the offensive zone.  This should allow us to create some space so we can attack their defensive zone coverage.  We have been focused on creating quality scoring opportunities with passing and movement as a supportive group, and we want to stress to the group that each skater must be active during the entire shift so we can best support our teammates.  Kyle Droge will get the start, and our group will look to perform with greater attention to defensive detail after allowing six goals last Sunday.
Saturday, December 10 – 7:30pm @ Port Carling Arena vs. Grey Highland Hawks
The Hawks are going to be motivated to respond to our victory last weekend, and we expect a physical contest with many puck battles.  We weren't happy with our defensive effort last weekend as we made a number of questionable plays.  Our skaters expect to rebound from this rare effort and get back to responsible puck movement when we are moving out of our zone.  We have been waiting for results on special teams, and for the first time this season our powerplay was the difference.  We hope that we can develop some consistency in this crucial area of our game especially against the Hawks as it takes a handful of goals to win.
Photo courtesy of Dorothy Duck.
Stay Connected!
Facebook: facebook.com/MuskokaWild
Twitter: @MuskokaWild