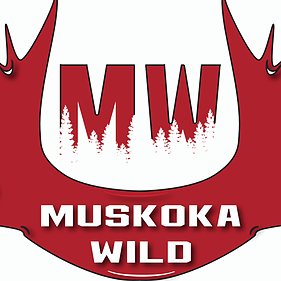 The Muskoka Wild began their two-game home stand with a thrilling come from behind 4-3 overtime victory against the Essa Stallions on Friday evening. A physical affair saw the Wild overcome a depleted bench to capture their third victory in a row and remain perfect on home ice.
During a tight first period there were chances at both ends, before Essa got on the board with just under four minutes remaining, on a goal by Jason Stone. The Stallions entered the first intermission holding a 1-0 lead.
The Wild tied the game on a solo effort by Brandon Pheasant to bury a top-corner wrist shot following the halfway mark of the second, before the Stallions retook the lead on a Stephen Eccles goal assisted by Michael Aarons, who would finish the game with two points.  Jared Weatherbee gave the Stallions a 3-1 lead before the close of the period.
The final five minutes of the second period saw a series of events seriously impact the Wild's roster size. The result was a group of seven young men playing with enormous pride and determination in a crucial home game against a team of fourteen skaters.
Needing to regain the momentum, the Wild wasted little time cutting into the Stallions lead with Devin Gates collecting his eighth goal of the season early in the third frame. The Wild demonstrated fantastic grit and refused to give the game away. The two teams traded chances throughout the final period, with goalie Kyle Droge making some key saves to keep the Wild within striking distance.
With just over a minute to go, Gates scored his second of the game to tie the contest at 3-3, with assists to Masaki Watanabe and Jake Lynch.  Not much in the way of chances over the final minute saw the game head to the Wild's second overtime appearance of the season against Essa. The shots were 14 – 4 for the Wild in the third.
Gates completed the natural hat trick eighteen seconds in overtime, with Watanabe collecting his third assist of the game.  The win sees the Wild extend their West Division lead to a season-high six points over second place Grey Highland Hawks, who are in town Saturday evening.
"Great win for the boys," an exuberant Scott Baker said post-game.  "We fell behind early, but dug deep with a short bench.  Pleased with the effort, but we are a work in progress and need to play smarter and do a better job of controlling our emotions at times.   We will take the two points, and turn our focus to the Hawks tomorrow night."
The Wild host the Grey Highland Hawks tonight at Port Carling Arena.  Puck drop scheduled for 7:30pm.
Join The Conversation 
Twitter – http://twitter.com/MuskokaWild
Facebook – http://facebook.com/MuskokaWild