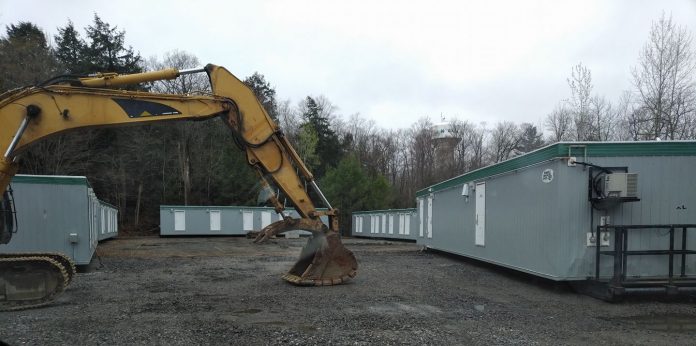 The Township of Muskoka Lakes council voted unanimously against a by-law amendment submitted by the JW Marriott to allow for staff housing in the Bala Bay Hostel and nearby trailers in a meeting on the morning of Feb. 15.
The application for the by-law amendment stated that the JW Marriott planned to "use the existing 36 units located in the Bala Bay Inn/Hostel building as Staff Quarters" and "to establish 29 additional units to be used as Staff Quarters within modular buildings." The modular buildings refer to trailers that were placed at the hostel well over a year ago without permission from the township. A proposal to allow them was voted down in May 2018, but they have remained there since and the hostel has been used as staff housing despite by-law violations. About 50 to 60 residents and business owners attended the council meeting with 10 parties voicing their desire to see the amendment voted down. 
"Locals are definitely very passionate about the issue," said Muskoka Lakes Mayor Phil Harding. "The reality is that a staff residence on the main streets at sort of the gateway to Bala is not an appropriate place to have staffers."
The rest of council agreed, voting the by-law amendment down unanimously. However, JW Marriott is able to appeal the decision.
"It's just not a good application to compress [staff into the hostel] and then put trailers in the parking lot," said township councillor Glenn Zavitz. "This is a tourist town that derives a lot of its income from tourism dollars and cottager dollars and we need to enhance the beauty of the place, not degrade it."
Residents who live near the hostel have reported garbage around the area in addition to parties that cause noise and other disturbances.
"Sometimes staff, especially seasonal staff, are not always the most respectful neighbours and it's difficult when you put them in the downtown core," Harding said.
However, Harding also added that it's important for the township to look for ways to solve the problem of staff housing, which impacts many resorts in the area.
"We do need to find some solutions to help the economy, to help our resorts survive because we do need seasonal staff," said Harding. "It's not just a Marriott problem."
As for the remaining trailers, Harding said that the legal action against the JW Marriott to remove them was stayed pending the outcome of the zoning by-law application, but moving forward, the township "will be once again looking to enforce the removal of the trailers."