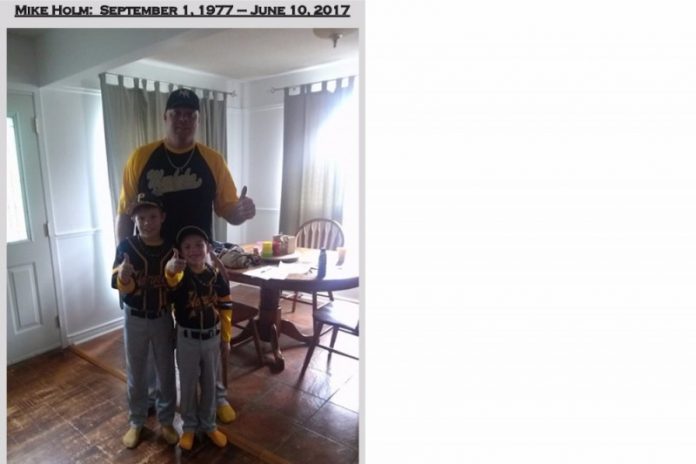 In a statement released on the organization's Facebook page:
It is with heavy hearts that the Board of the Muskoka Hornets announce that our fellow Hornet executive, Mike Holm, died suddenly this weekend. Mike was 39 years old.
To say that Mike was the cornerstone of the Muskoka Hornets organization is an understatement. When Mike signed on to the Hornets program five years ago, we were a fledgling organization with limited resources and limited volunteer assistance. From the day he joined, no project was too big or small for Mike to undertake. He was a board member, coach, equipment manager, house league coordinator in Huntsville and now Gravenhurst, tournament convener and jack of every trade possible in our organization. His spare time was virtually 100% dedicated to his family and Hornets baseball. Mike used to tell people to look for the big bald guy in the Hornets hat whenever anyone needed to see him. He was always at the diamonds.

While Mike often joked about his own embellished stellar playing career, he loved nothing more than to pass on his baseball wisdom as a coach to his Peewee Select team and to his two sons, Mark and Lucas. Mike will be remembered for his charm, his wit, his willingness to sacrifice everything for the benefit of others and for his love of his family.

He is survived by his wife Vicky and two sons Mark, 11 and Lucas, 8, both Muskoka Hornets players.
Family will receive friends at the Reynolds Funeral Home, 1 Mary St, Bracebridge on Thursday, June 15th from 2 pm – 4 pm and from 7 pm – 9 pm.

A celebration of Mike's life will be held at the Turner Chapel at Reynolds Funeral Home on Friday, June 16th at 1 pm. The family requests that anyone who is a member of the Muskoka Hornets Baseball Association please come dressed in baseball uniform.

An on-line fundraising platform has been established at https://ca.gofundme.com/mikeholm in order to provide Vicky and the boys with emotional support and financial assistance during this difficult time.
Photo Credit: Muskoka Hornets