Muskoka Chautauqua, a non-profit organization located in Port Carling that designs and delivers multi-disciplinary arts-based programs, is preparing for their annual fundraiser, Flavours of Muskoka Chautauqua, by selling early bird tickets and seeking out sponsors, vendors and silent auction donors for the event.
Muskoka Chautauqua aims to inspire lifelong learning, personal growth, enrichment and renewal through celebrating creativity, the human spirit, and Muskoka's unique heritage and natural environment. Flavours of Muskoka Chautauqua is an annual fundraising event to support arts in education programs for young people and it's the organization's only fundraiser for the year. The event will be held at the JW Marriott The Rosseau Muskoka Resort and Spa on July 4 from 6 to 9 p.m. It will be an evening of tasting, featuring chefs, wineries, breweries and distilleries, as well as a sampling of experiences offered by Muskoka Chautauqua. Early bird tickets are available for $65 until May 31 when the price goes up to $75.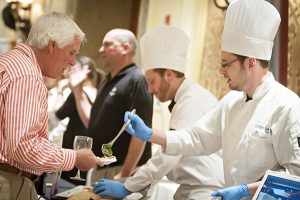 "It is a great chance to be seen, heard, and tasted while helping the youth in our community," said Kelly Hart, marketing and event coordinator for Muskoka Chautauqua. "This year we are focusing on the theme of sustainability and we will be using social media to promote sustainable green things that participants do or do not use in their places of business."
Flavours of Muskoka Chautauqua showcases local businesses to full-time and seasonal residents as summer gets going in Muskoka and this year, vendors will get added exposure from social media promotions that highlight one vendor each week. Donors will also be able to include auction items in an online auction a few months before the fundraiser in addition to the silent auction held during the event.
Proceeds will go toward bringing artists into Muskoka schools to address social and emotional wellbeing through the arts, supporting the Muskoka Chautauqua belief that the arts can be a helpful tool for mental health issues. The organization's Arts in Education program, which is based on the ArtsSmarts model, uses creativity to engage their students in learning, resulting in higher rates of academic performance and school completion.
For more information or to see the items available in the online auction, visit Muskoka Chautauqua's website. To purchase tickets, click here. If you want to inquire further about sponsorship, the exposure vendors receive or the event itself, contact Muskoka Chautauqua at marketing@muskokachautauqua.ca or at 705-765-1048.