Local sweet tooths gathered in Bracebridge along with Bracebridge Mayor Graydon Smith for the grand opening of the Muskoka Candy Company on May 8.
Smith attended for the ribbon cutting and to present owners Denny and Ginger Gilbert with a plaque showing the support of the town, which they received alongside a Certificate of Recognition from the Bracebridge Chamber of Commerce. Following the ribbon cutting, the crowd filed into the store to purchase fudge, taffy and other treats. The first 40 people that made a purchase of $20 or more received a surprise envelope as well as an entry into a draw for a $50 gift certificate. The surprise envelopes contained discounts, free products and one contained a $20 gift certificate. For the rest of opening week, the store is offering customers samples of fudge, brittles and chocolate and for those that spend over $20, an entry to win gift basket prizes.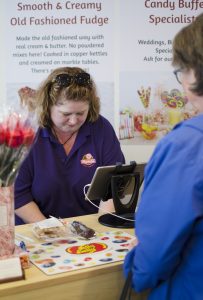 "It is exciting seeing our vision come together," Denny said. "There has been a tremendous amount of interest shown from the public and we are thrilled to be able to finally open our store and let people come in and explore."
The Gilberts' new business was inspired by candy shops they had visited while vacationing on the East coast. They wanted to recreate the experience in Muskoka, so they put together a shop complete with over fifty flavours of taffy. But the candy store experience isn't all they offer. The company also creates customized gift baskets and corporate gifts, in addition to offering candy buffet services and a free DIY candy buffet guide to their customers.
"We are a small town store owned by a local couple who are focused on providing personalized service," Denny said. "We want to see our customers smile and have fun in our shop."
However, for those that can't make it to their location near downtown Bracebridge, there are other options. They also offer delivery locally and across Canada, allowing people across the country to give Muskoka Candy Company a try. Gilbert said he wants to thank everyone for all of their interest and support and looks forward to bringing classic and new options to Muskoka and beyond.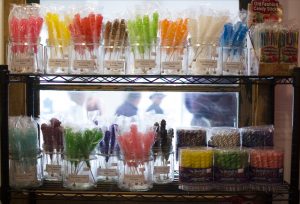 "We've done a lot of planning and research to try and provide a store that people will love," Gilbert said. "We will always carry our core products as well as new and unique seasonal treats. Our inventory will change often so there will always be something new to see."
To learn more about the Muskoka Candy Company and the services they offer, visit their website. Visit their store at 11 Taylor Road in Bracebridge from  10 a.m. to 6 p.m. each day, except on Fridays when the store is open from 10 a.m. to 8 p.m. The store is closed on Sundays.