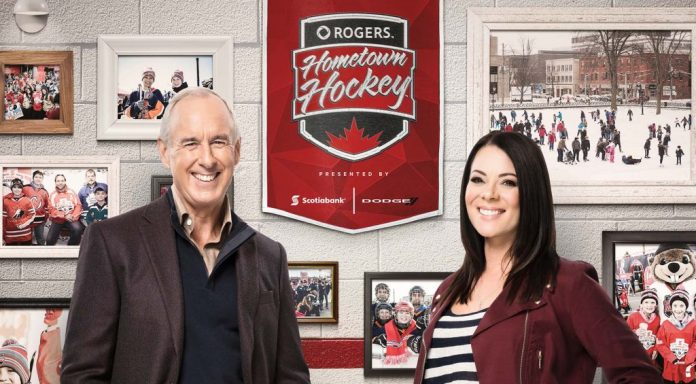 The Canadian Hockey lens will focus clearly on Haliburton this weekend, as Rogers Hometown Hockey lands at Head Lake Park, Saturday, October 14 and Sunday, October 15, 2017.
The annual tour runs throughout the National Hockey League season with a different community assuming the spotlight each week. Haliburton will be the second of the 24 stops on the 2017-18 run, the fourth season since the show's inception back in 2014. Co-hosts Ron MacLean and Tara Stone have been with the broadcast since the start.
Slone came to Hometown Hockey from Breakfast Television in Calgary and after a year as a reporter was moved to host for the second season. MacLean, of course, has been a staple on CBC Sports' flagship Hockey Night in Canada in some capacity since 1986 – mostly as host and always alongside hockey icon Don Cherry on Coach's Corner – and there is truly no better person to tell the stories from behind the scenes of hockey in small-town Canada.
"When we go into Haliburton, Vince and Chris Duchene [parents of Colorado Avalanche forward, Matt Duchene] will come on the broadcast, Cody Hodgson's family have been so huge in the political scene in Haliburton for years," MacLean says "That's the biggest thread that I find is that there's just so many people doing good things whose stories rarely get seen."
"Our motivation is to make the communities proud," says Slone. "If we've told the story coming out of Haliburton Highlands the way that they wish to see themselves portrayed and they feel like we've done it justice then I think we've done our job."
The free hockey-themed weekend will feature games and activities, music from Carl Dixon and autograph signings from former NHLers and Haliburton natives Hodgson, Bernie Nicholls and Ron Stackhouse. It will run from noon to 6 p.m. Saturday and from noon on Sunday right up until the pregame show, live on location, for Sunday's matchup between the Boston Bruins and the Vegas Golden Knights.
Muskoka 411's Drew McMillin caught up with co-hosts Ron and Tara to chat about the weekend's festivities. You can listen to both interviews in their entirety below:
Photo Credit: HometownHockey.com