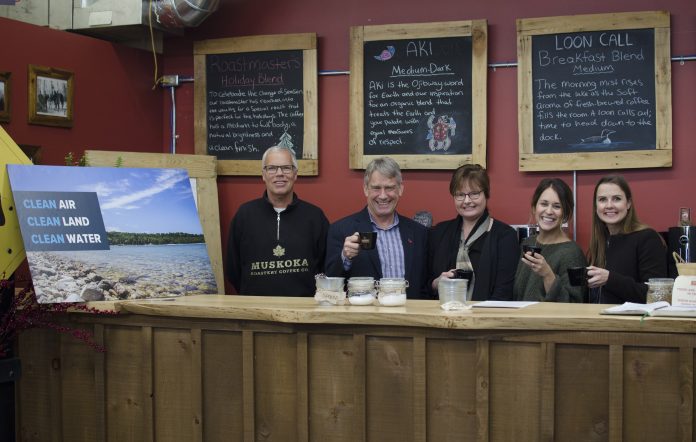 MPPs Norm Miller and Andrea Khanjin made a visit to Muskoka Roastery Coffee Co., the inspiration for Miller's compostable coffee pod bill, on Dec. 11 to discuss environmental initiatives like the pods.
Miller, MPP for Parry Sound-Muskoka, and Khanjin, MPP for Barrie-Innisfil and Parliamentary Assistant to the Minister of Environment, Conservation and Parks, met with Muskoka Roastery president, CEO and other staff at the Huntsville store. They visited in support of the Made-in-Ontario Environment Plan "Preserving and Protecting our Environment for Future Generations."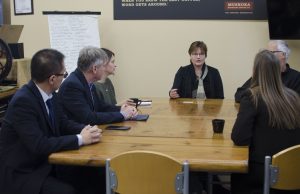 The plan looks at reducing waste from packaging and single use plastic by working with municipalities to create clear requirements for compostable packaging. The plan also considers how producers can be responsible for the end of life management of their products and packaging, an idea raised in Miller's Private Members Bills introduced in 2005 and 2007. Miller developed the bill after visiting the roastery in September 2017 and seeing their compostable pods, which were developed at the University of Guelph and are produced in Ontario.
"I saw Muskoka Roastery using this made in Ontario product and just thought it made all the sense in the world, so that was the idea for my Private Members Bill," Miller said. "I was pleased to see the new government has taken an interest in that."
The plan mentions the compostable pods as well as efforts to have them more widely accepted in municipal compost systems.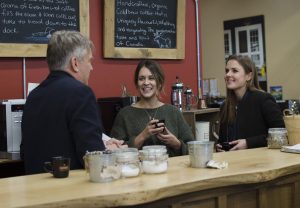 "The reality is we have to get creative with waste diversion and this is a great example of how you can have waste diversion work," Khanjin said, "but the big policy would be you have to make sure that every municipality has a system for that type of waste diversion."
Once the pods are accepted in all municipalities, Miller said it's a win-win-win situation, especially because the pods are functionally the same. Jordan McKenzie, marketing manager for the Muskoka Roastery, agrees, especially because coffee pods don't share the same consumer issues as other environmental products like paper straws.
"The difference there is there's definitely a difference to the consumer. Maybe the cardboard straw gets little bit soggy or you notice a difference, whereas the pod works exactly the same as a regular one," McKenzie said. "It doesn't go through plastic, it's going through a plant-based material mash, so as the consumer, you're not noticing any difference other than a better tasting cup of coffee and you don't have to pull it apart, you put it in the compost bin."