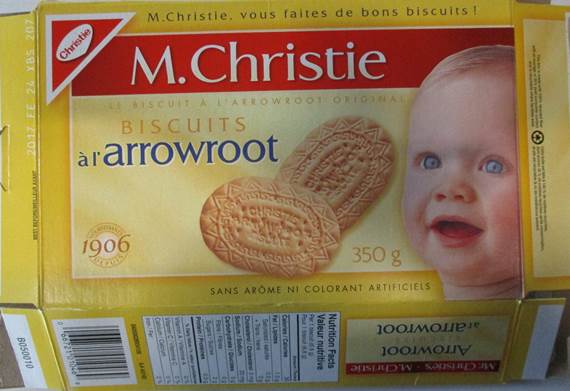 The food recall warning issued on October 21, 2016 has been updated to include additional codes and products. This additional information was discovered during the Canadian Food Inspection Agency's food safety investigation.

Mondelēz Canada is recalling certain date codes of Mr. Christie's brand Arrowroot Biscuits from the marketplace due to potential off-taste. Consumers should not consume these recalled products.
Brand Name
Common Name
Size
Code(s) on Product
UPC
Mr. Christie's
Arrowroot Biscuits
350 g
Best Before
2017 MR 01
0 66721 01046 9
Mr. Christie's
Arrowroot Biscuits
3.6 kg –
300 x 12 g
(2-pack)
Best Before
2017 MA 13
1 00 66721 51404 9
Recalled products should be thrown out or returned to the store where they were purchased. There have been reported illnesses associated with the consumption of these products.