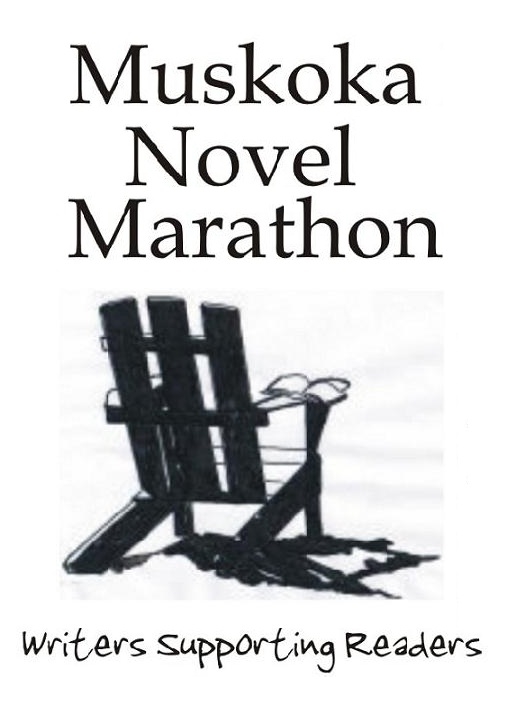 Bracebridge lawyer Cindy Watson and her daughter, Trent University student Jade Wilton-Watson, are also both writers.  Adventuresome writers… which is why they both hit the "Register" button in the nick of time to participate in the Muskoka Novel Marathon.
This coming weekend, July 8-11, they and thirty-eight other writers will sit down to produce as long and as excellent a piece of writing as they can in 72 hours, competing for prizes which include having their manuscript bypass the slushpile to be seen by an editor or a literary agent.
The writers will also raise money for YMCA Literacy Services in Huntsville. Last year they amassed $32,000.
"I was always an avid reader and writer," says Cindy. "I remember writing poems even as a very young child, and embarrassing stories about a young girl in an orphanage, all riddled with overuse of adjectives and melodrama." But fiction gave way to the necessities of her legal career, at least until her children were old enough for the stories she wrote them. "I haven't looked back since."
"I've been writing ever since I can remember," says Jade, 19. "I started with short stories. There was always a hint of magic to it, either a witch or a sorcerer. As I grew up, and started to read Young Adult books, I started to write contemporary YA."
Cindy had heard of the Marathon years ago, and then Jade caught wind of it at a writer's conference last year, after the registration deadline for the 2015 Marathon was past. "I mentioned it to Jade this year, sort of threw it out off the cuff," says Cindy. "She was immediately into it, which made me think 'let's go for it!'"
Mother and daughter plan to sit together, and were considering collaboration, but have decided to each do her own thing.  Whether they will compete against each other by entering manuscripts in the same category, they haven't yet decided. "I think of the Marathon less as a competition and more as an opportunity to get uninterrupted hours getting to know your characters, and guiding them through a journey," Jade notes.
Both confess to being both excited and nervous.
"I participate in NaNoWriMo every year and thought that this was the next challenge I was ready to face," says Jade. "I can write a novel in a month, but can I write one during a weekend? I sure hope so."
Cindy enthuses: "I love that Jade and I share this passion. I particularly love that we're sharing this exciting rookie experience together for the first time. There's something magical about firsts, and sharing that magic with her will be a lifelong memory."
To sponsor Cindy Watson, Jade Wilton-Watson or other Novel Marathon writers, visit www.muskokanovelmarathon.com .