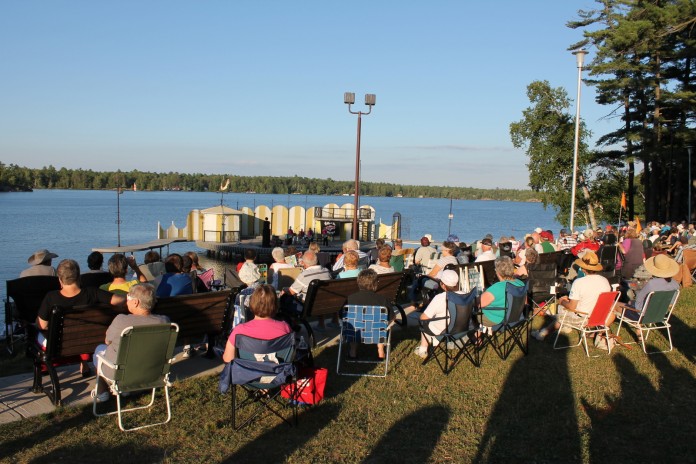 Stunning Vocals, Incredible Dance Moves And An Uncanny Resemblance
Gravenhurst, ON – The King of Pop – Michael Jackson Tribute with Bishop Soul will be taking to the stage at "Music on the Barge" on Sunday, July 19, beginning at 7:30 p.m. Dressed in elaborate costumes and moon walking across the stage, Soul plans to put on a thrilling performance of his tribute show called "The King of Pop" The Michael Jackson Experience.
"Our mission is to have a good time," said Soul. When he stares at the man in the mirror, the resemblance to the late Michael Jackson is uncanny. Throw on an iconic Jackson jacket, fedora and glove and the two are almost identical.
"My passion for Michael Jackson spans back to his early days," said Soul. "I'm a true fan of his music." After Jackson died in 2009, Soul had the chance to step on stage to emulate the performer, whose songs he had performed for so long. While emulating the King of Pop's high-pitched falsetto can be challenging enough, a Jackson tribute isn't complete without the dance moves to match. "You have to coordinate your performance. That's where the breathing aspect comes in," said Soul. "It's a marriage."
This Sunday at Music on The Barge, Bishop Soul will perform some of Michael's greatest hits including; Billy Jean, Thriller, Smooth Criminal, Beat It, Bad, Black and White and many more. Be prepared to see a live performance by one of the world's best Michael Jackson tribute artists. This amazing show features Bishop's stunning vocals (no lip-syncing), incredible dance moves, breathtaking looks and replica costumes. This fast paced, high energy, live in concert production will pull you off your seat and have you dancing in the park.
Don't miss Bishop Soul – Michael Jackson Tribute at "Music on the Barge" Gull Lake Rotary Park, Gravenhurst on Sunday, July 19. Full summer concert series can be found at www.gravenhurst.ca
Admission is a Free Will Offering which assists with the programming cost and ensures that this tradition continues. In the event of inclement weather such as rain or lightning, the concert will be cancelled for the safety of the audience and performers.