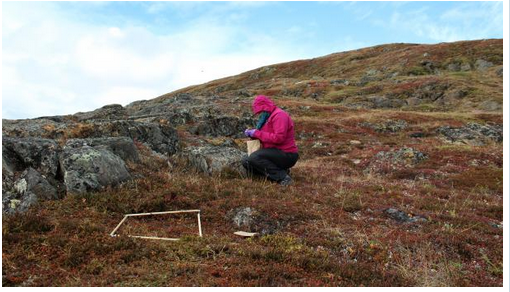 Environmental & Life Sciences student Phaedra Cowen research on mosses recognized
After identifying a void in her area of research, Phaedra Cowden '13, took a deeper dive into the ability of moss to act as a biomonitor, and her curiosity and hard work paid off. A masters students in the Environmental and Life Sciences program at Trent, and a graduate of the Ecological Restoration joint degree program between Trent University and Fleming College, Ms. Cowden was recently awarded
the 2016 Muskoka Summit on the Environment Research Award, providing her with $7,500 to support her research project, Assessment of the Spatial Variability of Atmospheric Deposition Across the Muskoka Region.
"I first became interested in mosses when I was tasked with learning about how to grow them on a green roof at Fleming College for a summer job," says Ms. Cowden, who adds that her initial interest eventually grew into the study of using mosses as a biomonitoring tool, leading to her current thesis research. "I've been lucky enough to sample moss from Northwestern BC and Baffin Island, NU and now the Muskoka Watershed Region. I couldn't ask for a better job than wandering around in the forest or on the tundra looking for moss!"
This biomonitoring study is the first of its kind in the Muskoka region. Ms. Cowden confirms that atmospheric pollutants, such as heavy metals and nitrogen, have harmful effects on surrounding systems and the monitoring of pollutants is integral to assessing ecosystem impacts.
The data obtained would provide benchmark information regarding the spatial pattern of atmospheric pollutants, and an assessment of moss species diversity." The results of Ms. Cowden's findings will also be submitted to the International Co-operative Programme on Vegetation under the Convention on Long-range Transboundary Air Pollution, as the Canadian submission to their regular repeat survey. This has the benefit of setting the Muskoka analysis in the context of the wide-scale European assessment.
The funding provided by the MSE Research Grant will support all aspects of Ms. Cowden's project, from car rentals, fuel and accommodations while carrying out the survey, to covering the costs associated with sample preparation and analysis at the Trent Water Quality Center, and eventually to travel for the 2018 Muskoka Summit on the Environment, where she is scheduled to present her results.