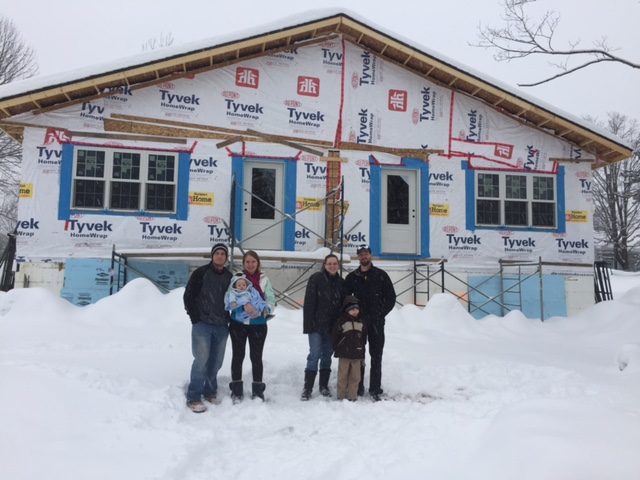 "I think I'm most excited to be giving my little guy the freedom to be a kid."
Alyssa Foran, 30, and her husband James Speicher, 35, will purchase one side of the Habitat for Humanity duplex currently under construction in Huntsville. The young couple is excited for their son Ethan, nearly six-years-old, to grow up in his own home on Irene Street – right beside the local park.
"He's so excited. He is over the moon," said Foran. "It will be amazing having more space. If he builds a tower he won't have to put it away because it's also in the space where the dining room is. He can keep it built and come back to it. He can be excited, he can run and jump around. He will have the freedom to be a kid," she says again.
Foran and Speicher have rented in Huntsville for nearly six years. The couple has been trying to buy a home for three years, but saving for a down-payment proved to be an arduous task. One day, Alyssa's mother gave her Habitat for Humanity's contact information from a poster in their church.
"She said 'Just try it, what have you got to lose?'" Months later, Foran and Speicher received notice they would be able to purchase the home, once it's completed, with no down-payment and with an interest free mortgage. The family will provide "sweat equity" through volunteering on the build-site, the ReStore and local events. "We got the news and have been dying to tell everyone since. I like how Habitat works with the families and provides the flexibility. I like how the property tax is included in the monthly payment. We're so excited to get started."
For nearly six years, the young family has lived in a two-bedroom apartment rental. The windows are small, Foran is constantly worried about Ethan making too much noise for their neighbours below, and the heat is unbearable in both the winter and summer months. But, when asked what comes to mind when she envisions herself and the family in their own home she mentions gathering.
"I am excited to host Christmas dinner, Thanksgiving dinner, my grandparents on my side have been hosting since I was a kid. To be able to take that burden off of them and to give the family another gathering place – I'm looking forward to that."
Another young, local family, will purchase the home next door. Aly Guildford, 21, and her partner Joel Rhiness, 22, will move from their rental in Dwight with their newborn-son, Oliver.
"We're so excited to purchase our own home so young, it's a blessing," said Guildford. "It's right in town, it is going to be so accessible for us to get to different programs and to volunteer."
Guildford and Rhiness have had to drive into Huntsville to complete household tasks like laundry and shopping. With a new son they were quickly growing out of their tiny apartment.
"It's a small place. Obviously our son is not able to walk yet, but when he does he wouldn't be able to go very far."
While a student at Georgian College, Rhiness volunteered on the Habitat for Humanity build in Gravenhurst in 2015. He knew about the program, and the young couple applied online and filled out an application with Habitat volunteer Sarah Patchett. The new homeowners look forward to the stability of a life in Huntsville.
"Our son will get to grow up in one home instead of moving from rental to rental like how I grew up," said Guildford. "It's going to be his base and he won't have to be scared of moving all of the time . . . For us, it will set a foundation to grow."
The two partner families will pay a monthly mortgage into Habitat's "Fund for Humanity." Those funds are used to build more local and affordable homes. Habitat families are constantly and continually funding additional Habitat builds.
"It's a revolving door," said Guildford. "It's amazing to think about. We pay for our house and with that we're helping to build other homes."
Both families mentioned how important the businesses and volunteers in Muskoka are to the construction of local affordable homes, and now, the growth of their families.
"To allow these people to come together just out of the generosity of their hearts is overwhelming. You just want to find out who all these people are and say thank you, but it's almost like thank you is not enough . . . there is no true expression to really explain how we feel . . . all of these businesses and people helping . . . wow, thank you, thank you thank you!"