Lakehead University in Orillia will welcome over 300 new students this fall and the Student Success Centre is seeking sponsors for Orientation Week, according to Student Success Advisor Serena Favaro.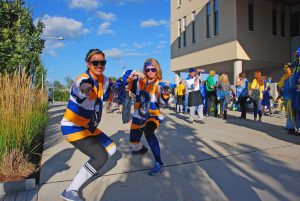 The centre seeks sponsorship to ensure that new students feel a sense of belonging within and around the Orillia community. Their Orientation Week programming is built on a foundation of 5 goals: Welcome, Belong, Prepare, Acquire Knowledge and Connect. With those goals in mind, the centre plans events that cater to the student experience in a way that will make them successful during their time at Lakehead.
Businesses that act as sponsors for Orientation Week will get the chance to be advertised in a variety of ways. Sponsors may have their logo featured on the registration page, have their logo featured on welcome kits for students, get a table at an event or even provide sponsorship for an entire event. The Student Success Centre's sponsorship package and other options can be found online. The centre is open to talking with businesses that have different sponsorship ideas in mind as well.
Click here to view the sponsorship packages and other options. Those interested can contact the Student Success Centre by phone at 705-330-4008 ext. 2118 or by email at Orillia.ssc@lakeheadu.ca.