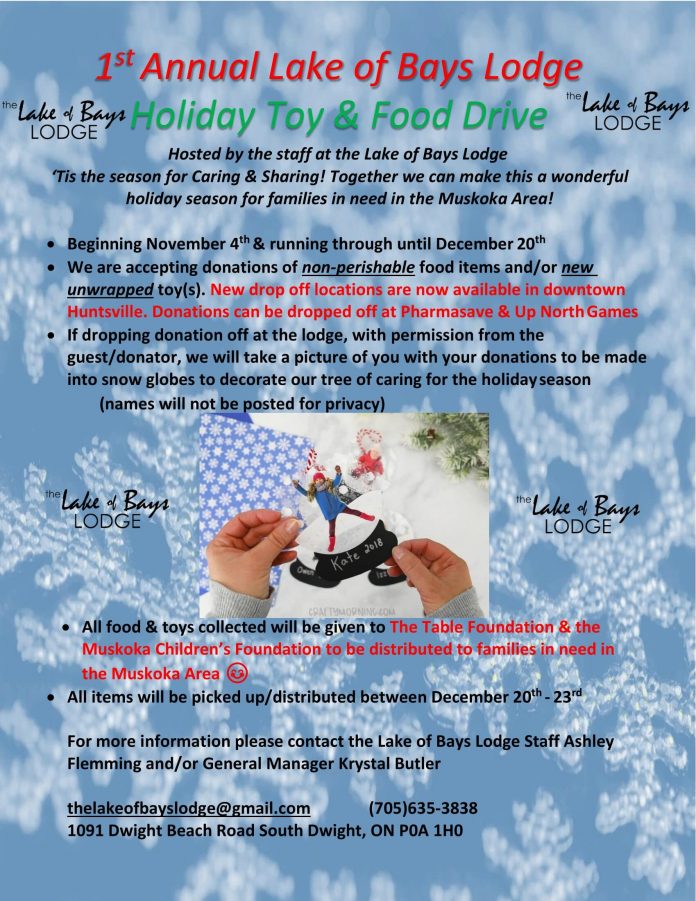 Less than a year ago, toy donations helped make Christmas magical for Ashley Flemming and her children while they lived in low income housing in Barrie. Now, Flemming wants to help other families through a toy and food drive at her workplace, the Lake of Bays Lodge.
"It was really nice at Christmas time that we had people that were so generous to donate toys that helped me to make it a memorable Christmas for my children," Flemming said. "This year, now that I'm in a much more stable position, I'd really like to return the favour and show my children from the other side what it's like to be able to provide a Christmas and make a memorable moment for another kid that's in the same situation that we were."
The toy and food drive is collecting nonperishable foods as well as new, unwrapped toys for all age groups and genders until Dec. 20. Donations are being accepted at the lodge as well as Up North Games and Pharmasave in Huntsville. Donors also get the chance to take a photo with their donation, which will then be made into snow globes to decorate the company's tree. Food donations will go to the Table Food Bank in Huntsville and the toys will be distributed to families with the help of the Muskoka Children's Foundation.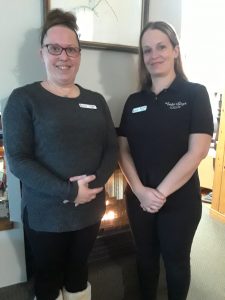 Flemming said that along with her desire to give back some of the kindness she received, she also wanted to do a toy drive because she noticed a lack of the drives north of Bracebridge.
"I want people to realize that just because they live in a more remote or northern part of the province that there is still a need and there are still low income families in those types of areas," Flemming said. "A lot of people look at Muskoka as a cottage country, so they may tend to think that means people in that area have more wealth." 
Flemming also wanted to include food items in the drive to help lower income families have everything they need to celebrate the holidays.
"I want to try to give an entire experience," she said. "I didn't want to just do a toy drive and help out the kids. I wanted to all around cover everything that a family could need as a whole over Christmas."
General Manager Krystal Butler said that when Flemming raised the idea of a combined toy and food drive, she thought it was an amazing one.
"It's a pay-it-forward thing," Butler said. "Somebody has helped her, and now she wants to help. It's nice to see that it comes back."
Butler has been overseeing the drive with Flemming, and other staff members have come forward to offer donations and contribute to the efforts. Butler said she hopes the drive is a hit because they plan to make it an annual event. She wants locals to understand that if they can give, that's great, and if they can't, that's okay too.
"It's a tough time of the year for everybody," Butler said. "The end of the year is always more expensive for everybody, but just keep in mind that there are people out there that need help. Whether it's a $5 toy or a $20 toy, it doesn't matter as long as it's something for a child to open."