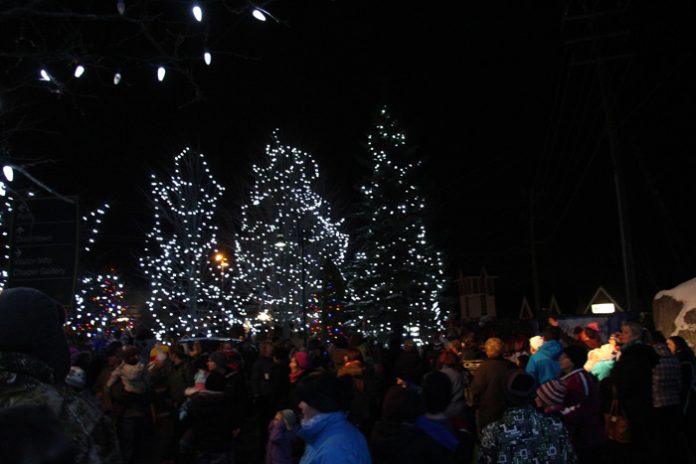 Shopping, music and fun for the whole family this holiday season in Bracebridge!
On Friday, November 30th, 2018, the public is invited to pull on their toques and bring the whole family downtown for Santa's Festival of Lights and shopping party. Beginning at 6:00 p.m. at the Bird Mill Mews Parkette, Chamber of Commerce, Santa will kick off the holiday season in downtown Bracebridge.
Kids of all ages will have a chance to mingle with elves and sing along with the Christmas tunes performed by Jam Sandwich. Residents and visitors are invited to:
• Face painting courtesy of Santa's Village;
• Take a tour of the Bracebridge Fire Department's decorated fire truck;
• Figure out your elf name with One Kids Place;
• Try a s'more around the campfire, and have a bite to eat at the Signature's Eatery barbeque;
• Warm up with some hot chocolate from Oliver's and the Bracebridge Chamber of Commerce;
• Cruise down Manitoba St. on a horse drawn wagon;
• Make a festive tree ornament with Paul and Lea Kane;
• Challenge a friend to a round of life-sized Candyland;
• Help all of Santa's elves find their missing tools throughout Downtown; and
• Join Santa and friends as they walk up the street to see the decorated store windows, and "living window" displays created by the Bracebridge School of Ballet.
Visitors to the downtown core will be able get in the holiday spirit with family and friends on a traditional horse-drawn wagon ride along Manitoba Street, and wander while enjoying carolers and live festive music. Shoppers are encouraged to take advantage of Bracebridge's many boutique shops, the extended store hours and in-store specials.
Enjoy the spirit of the season and come to downtown Bracebridge!