With the return of sun and warmer weather, Keurig® is introducing four new colours for the Keurig® K200 brewing system: From elegant Peacock Blue and vintage-look Oasis to Plum Grey (a perfect match for stainless steel appliances) and trendsetting Pantone® Serenity, there's something for everyone!

Offering everything consumers love about the Keurig® systems, the colourful and compact Keurig® K200 model makes a great choice for people seeking a smaller, design-forward look and a touch of on-trend colour to meet their needs and personalize their kitchen – or their dorm room! The Keurig® K200 brewing system offers nine different brew sizes, so you can brew a single cup or a carafe* at the touch of a button.
For every taste and every lifestyle
With its compact design, the Keurig® K200 brewing system is perfect for apartments, small kitchens, cottages, and university dorms. And with the four new colours, it's now available in 11 different shades to match virtually any room décor. The K200 system is available for $149.99 at Keurig.ca/k200.
Here is the complete range of trendy shades available to the system K200 :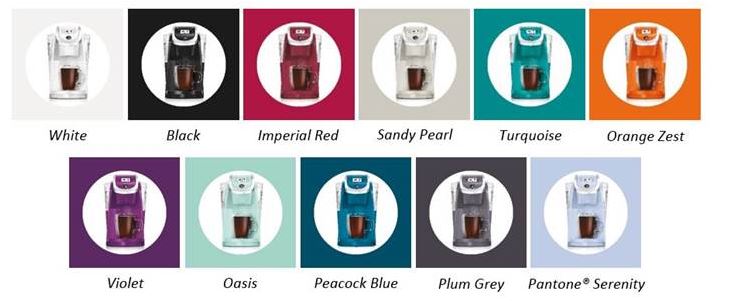 Great selection!
The brewing system not only gives consumers access to a wide selection of colours, but also to over 180 varieties of beverages, such as coffee, tea, and hot chocolate, from 35 brands including Van Houtte®, Starbucks®, Timothy's®, Green Mountain Coffee®, Lipton®, Folgers®, and Laura Secord®. Take your pick from K-Cup®, K-Mug™, and K-Carafe™ pods!
Muskoka411 enjoys the Keurig® system at our office in Gravenhurst.