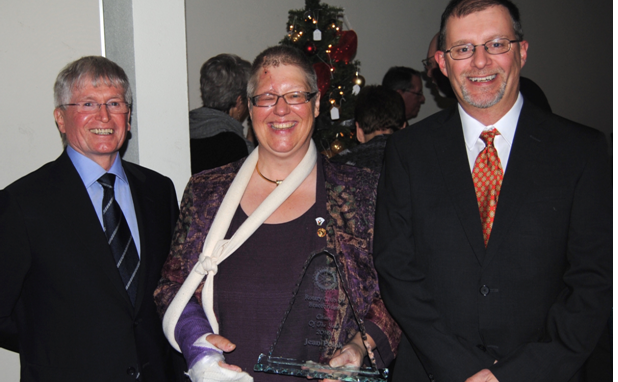 At the Club's 80th Charter Night held on Friday, December 9th, the Rotary Club of Bracebridge named Jean Polak as the Club's Citizen of the Year.  Annually, the Rotary Club of Bracebridge selects a citizen of Bracebridge, who in the collective opinion of the selection committee, has displayed a pronounced and a continuous pattern of exemplary civic duty and self-less volunteer service to the community.  Polak was selected from a group of nominees and is only the second Rotarian to be named as Citizen of the Year in the 30 year history of the award.
Jean Polak moved to Bracebridge in 1993 and joined the Rotary Club at the urging of her employer Sean Kelly from the firm Lee, Roche and Kelly.  Kelly was also a Club past president and a District Governor.  In the past 23 years Jean's commitment to the community has come in the form of:
Member of the Board of Directors and vice Chair South Muskoka Memorial Hospital;
Founding member of the YWCA of Muskoka;
Board member of the Muskoka Conservancy and the Muskoka Heritage Foundation;
Member of Legal Aid Muskoka area committee;
Director of the Advocates Society 2006-2010;
Member of the Chief Justice of Ontario's Advisory Committee on Professionalism;
Member of Ontario Review Board which reviews Not Criminally Responsible cases to determine release or continuation of detention care; and
Ongoing participation in Junior Achievement program that promotes economics of staying in school.
In his remarks during the presentation, Citizen of the Year Committee Member, Larry Archibald said, "In 1994 the Rotary Club of Bracebridge received Jean as a member and the magic began as the JEANIE was unleashed from the bottle ".  As a Rotarian, Polak has many accomplishments including:
Rotary Club President;
Assistant District Governor;
Chair of the 2016 Rotary District Conference;
Protection Officer for Rotary International District 7010 and created the District's 7010 Policy for Prevention of abuse and Harassment;
Licensed pyrotechnician of the Rotary Club's Detonation Team for the past 9 years for Canada Day Fireworks; and
Performer, producer, director, actor, organizer, fundraiser, promoter, and jack of all trades for over 20 years in with Rotary's Annual Musical that is celebrating 40 years in 2017.
In describing her role with the Rotary Musical, Archibald said, "Jean's inspiration has brought these productions to our town and have given thousands of our citizens a chance to experience live theatre. Yyoung children, teenagers, young adults and seniors have all been given the opportunity to participate in these musical shows as actors, set designers and set  construction, costume design and creation which has enriched their lives and have given the rest of the community the opportunity to experience first rate musical productions performed and by our own citizens".
Following a standing ovation from the Club, Polak thanked Rotary for this recognition and said, "I learned from my parents about giving back to the community and I guess that giving a little adds up after 23 years.  I'm honoured to be to be selected."