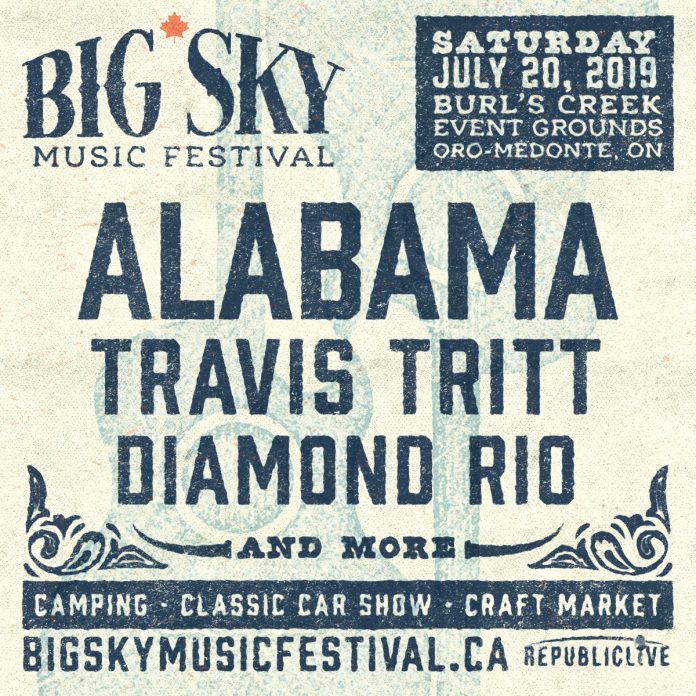 Today, Republic Live, the producers of Boots and Hearts Music Festival, announced the inaugural Big Sky Music Festival, a new summer event featuring country music legends, Alabama, Diamond Rio and Travis Tritt. The one-day event, hosted on July 20th at Burl's Creek Event Grounds in Oro-Medonte, ON, celebrates the best in classic country and offers fans an intimate experience with these legendary country music artists.
"We are thrilled to add Big Sky Music Festival to our roster of events at Burl's Creek this year," said co-founder, Eva Dunford. "In our inaugural year, Big Sky will welcome three of country music's most influential acts on one stage. In addition, during the festival, Burl's Creek will also host a marketplace of talented local artisans and an exciting vintage car show that will blow attendees away. In adding these fun and engaging elements to Big Sky, we are able create a unique event for friends and families of all ages to enjoy on our beautiful event grounds in Oro-Medonte. "
Big Sky Music Festival was developed through Republic Live's awareness of the significant growth of country music in Canada. Over the past year, fans of Boots and Hearts Music Festival have responded overwhelmingly positive to the genre's classic and iconic artists such as Alan Jackson; who performed at the festival in 2018. This year the event producers have developed a Canadian platform for a traditional country style festival. Attendees can expect a full day of fun including a classic car show, craft marketplace that showcases local artisans, as well as numerous vendors who will offer an impressive array of food and drink options.
"This summer at Burl's Creek some of the best country musicians will step foot on our stage right here in Oro-Medonte.", said Lisa Zechmeister, Director of Booking and Development. "Welcoming artists such as Alabama; a trio who have pioneered the evolution of country music with their 73 million albums sold and notoriety to the Country Music Hall of Fame, to Big Sky is an exciting moment for country music fans across Ontario and neighbouring provinces."
On-site camping, RV and motorhome spaces will be available on both Friday and Saturday; featuring a Pig Roast to be hosted on Friday evening for camping guests only.
Additional artist announcements will be made in the lead up to the festival.
Tickets for the festival will go on sale Friday February 1st, 2019 at 10AM EST at: www.bigskymusicfestival.ca