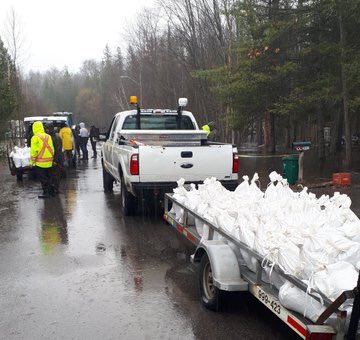 Hydro One crews continue to conduct emergency disconnections in areas affected by flooding, as directed by regional authorities. Customers are urged to call 1-800-434-1235 if water rises above their electrical outlets, baseboard heaters or furnace to have power disconnected to their home.
"Our hearts go out to all those affected by the extraordinary flooding. Safety is our top priority and rising water levels mixed with electricity can be extremely dangerous," said Darlene Bradley, Acting Chief Operating Officer, Hydro One. "We urge our customers to reach out to us if flood waters are affecting their homes so we can safely disconnect power. To help alleviate hardship during this time, we will waive the delivery charges while customers are disconnected along with any Hydro One connection fees."
Approximately 20 employees in the Muskoka and Ottawa areas have also volunteered with sandbagging efforts. Hydro One has cancelled all planned outages in regions where customers are affected by flooding.
If any water damage to electrical equipment occurs, a Licensed Electrical Contractor needs to conduct an evaluation and make any necessary repairs before Hydro One can restore power. For more information about how we restore power and additional safety tips visit www.hydroone.com/power-outages-and-safety/flood-safety.
Our hearts go out to those affected by the #ONflood. Safety is our top priority & we urge customers to call 1-800-434-1235 if waters start to affect homes, so we can safely disconnect power. Our employees in the Muskoka & Ottawa areas have also assisted with sandbagging efforts. pic.twitter.com/bVFmCg65eD

— Hydro One (@HydroOne) April 26, 2019