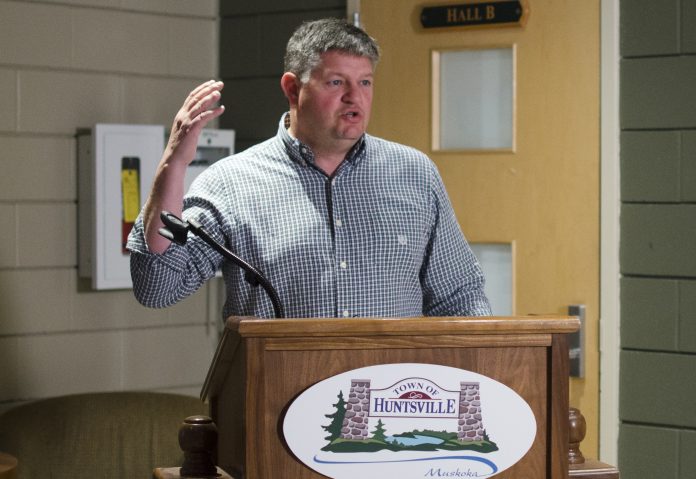 High water levels, similar to those in the 2013 flood event, will continue in the Huntsville area over the next few days due to large amounts of spring runoff, said Huntsville Mayor Scott Aitchison in a statement to the press at the Algonquin Theatre on April 23.
Residents who experienced flooding in 2013 are advised that similar conditions are expected this year. Huntsville lakes have surpassed the high water mark and will continue to rise over the next few days along with water levels in downtown. Water levels in the Big East watershed north of Huntsville peaked over the weekend and have started to recede slowly, but the prolonged high flow rates will continue to cause flooding throughout the Huntsville area and nearby communities over the next few days. The Ministry of Natural Resources and Forestry (MNRF) have removed all logs at the Brunel Locks to assist with lowering Huntsville lakes levels, but authorities have concerns about the water overflowing the dam, which the MNRF is also working to prevent. Property owners in low-lying areas, especially areas south of the Brunel Locks, are urged to take precautionary measures to protect their property.
"The water started to decline after [reaching peak flow on Saturday], but it didn't decline as fast as it usually does," Aitchison said. "We've seen sustained flows through the watershed through Huntsville and as a result of that, the waters have remained high and they continue to climb, particularly in Fairy Lake."
Aitchison said the town and MNRF officials will continue to monitor conditions and issue updates as necessary. Residents are encouraged to watch for updates and stay clear of waterways. Parents and guardians are also advised to remind children to stay clear of open water, creeks and rivers.
"In some areas, the water is as high as it's ever been, as far as we know, but we're hopeful that it will start to go down soon and that we'll be able to manage this event without any further problems," Aitchison said.
Aitchison said he does not believe there is an imminent danger and that the MNRF staff are confident in what they're doing now. He also mentioned that Bracebridge has declared a state of emergency and said that officials will have a better sense of whether water levels in Huntsville will rise, level out or recede after 1 p.m. on April 24.
Emergency services are prepared to assist as needed and residents are reminded to call 911 for emergency calls only, according to the statement. Public works crews are continuing to repair flooded roads as water recedes and town officials want to remind residents that flooded roads are closed for public safety and are illegal to drive on.
To find out more about about sandbags, road closures and other emergency-related information in Huntsville, click here.