Hundreds of Muskoka students walked out of class on April 4 as part of the Students Say No movement, which aims to stop the Ford government's changes to education announced last month.
Students from Huntsville High School, Bracebridge and Muskoka Lakes Secondary School (BMLSS), Gravenhurst High School, Orillia Secondary School (OSS), Twin Lakes Secondary School and Patrick Fogarty Catholic Secondary School participated in the protest that included over 600 schools and thousands of students across the province. The Students Say No movement challenges a number of the changes announced by the Ford government in March, including increasing the average class size to 28 students, cuts to funding that could impact teaching jobs and art programs, mandatory e-learning and more.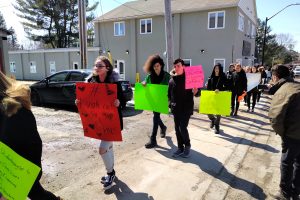 The Students Say No website offered an official walkout organizer's guide as well as an information package for teachers. Students were able to register their schools for the walkout and view a school registration list, which included the instagram handles created by many of the participating schools. The website also linked to a petition to stop Ford's changes to education, which had nearly 55,000 signatures on the afternoon of the protest.
At the Gravenhurst Opera House, about 250 people attended the protest from 1:15 to 2 p.m. Many students came with signs, chanting, "Education is a right, we will not give up the fight." Bracebridge OPP were on scene to make sure things remained peaceful.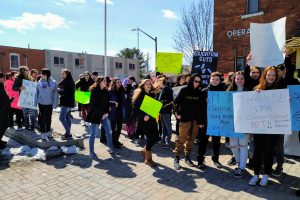 Sage van Kooten, one of the organizers of the Gravenhurst walkout, said the march is special to her because both her parents are teachers and her little sister will be entering high school in 2021 after the educational changes have taken place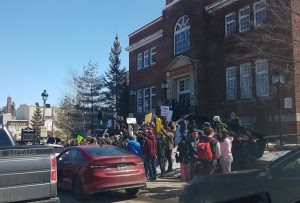 "I don't want her to be in a class with 40 other kids," van Kooten said. "That's not how she learns, she needs to interact with the teacher. You can't just have 40 kids and one teacher, that's not fair to the teacher or to the students."
Van Kooten said she's pleased with the turnout, especially considering her school has a population of only a few hundred students.
BMLSS students Brooke Morrow, Kendra MacDonald and Simone Robbins organized the Bracebridge protest. About 120 students from BMLSS, Bracebridge Public School and St. Dominic Catholic Secondary School met at Parry Sound-Muskoka MPP Norm Miller's office in Bracebridge.
"I got involved because I have three other siblings who want to go through post-secondary school and with cuts to OSAP, our family won't be able to afford it for all of us to go," Robbins said. "I also walked out because we need teachers and with Doug Ford's plan to cut 25 per cent of all teaching positions, we won't have enough for every student to get the help they need."
Protesters from Huntsville met at Town Hall, participants from TLSS walked in the school's neighbourhood, OSS students met at their school field and Patrick Fogarty students walked the school's track.
Visit the Students Say No website here. Read more about the changes to education here and see photos and videos from the protests below.