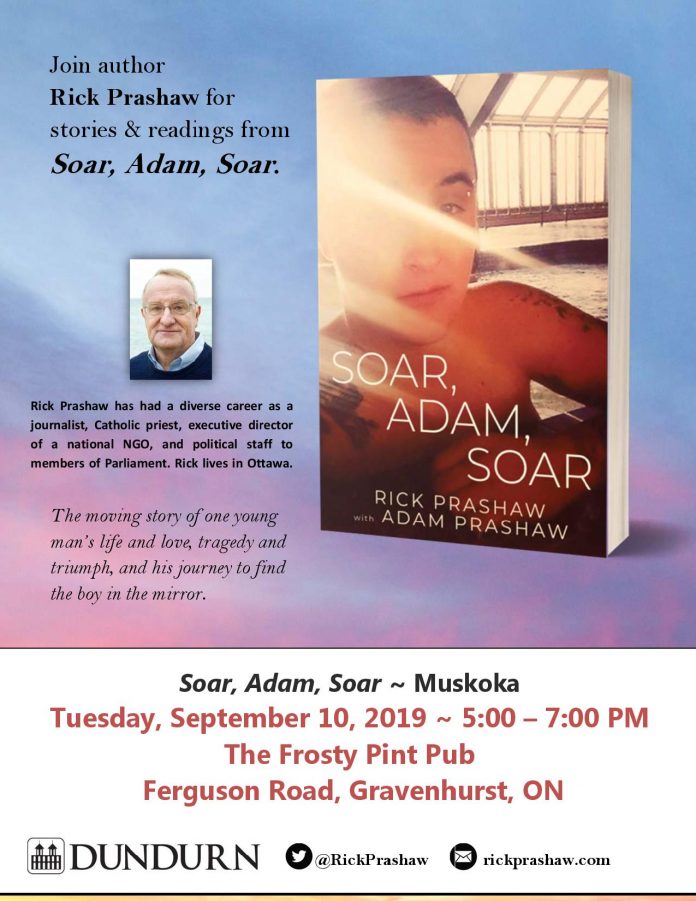 Fresh from a summer of writing, Ottawa author Rick Prashaw will be in Gravenhurst Tuesday, September 10th for readings and the story behind Soar, Adam, Soar, his inspiring memoir on his late son.
The Gravenhurst reading kicks off a fall tour after a late winter, early spring tour visited 26 cities in Ontario, Vermont and California.
Prashaw, a former Catholic priest, will be at the Frosty Pint Pub on Ferguson Rd. from 5:00 p.m. to 7:00 p.m. with the book available for sales and signing and a program including local speakers from Muskoka Gift of Life.
From the moment he was born, Adam Prashaw's life was full of surprises. Named at birth "Rebecca Danielle Adam Prashaw," Adam spent his life capturing hearts with his humour, compassion, and intensity. A life he documented in a trove of social media posts detailing his relationships, transition from female to male, and struggles with epilepsy, all with remarkable transparency and directness. What's more, after a tragic accident cut his life short, Adam as a registered organ donor left a legacy of saving four lives.
In Soar, Adam, Soar, Adam's father retells Adam's story alongside his son's own words. From early childhood, through coming out first as a lesbian and then as a man, and his battles with epilepsy and refusal to give in, the book chronicles Adam's drive to define himself, his joyful spirit, and his love of life, which continues to conquer all.
"This book is a love story. Plain and simple. A love story that, I believe, everybody needs to read, especially if you are parent," said Heather Down, a Barrie author and host of After the Book Ends podcast. "Soar, Adam, Soar also has funny moments, light moments, beautiful moments and I-can't-believe-that-really-happened moments. It is loving, uplifting, a piece of humanity that transcends things of this earth."
This week, the Soar, Adam, Soar fall tour also has readings in Barrie Sept. 11, Paris and Brantford, Sept. 12 and Kitchener-Waterloo Sept. 13.
Rick Prashaw has had a diverse career as a journalist, Catholic priest, executive director of a national NGO, and political staff to members of Parliament. He is a winner of the National Ron Wiebe Restorative Justice Award. Rick lives in Ottawa.
Advanced praise for Soar, Adam, Soar:
"Soar, Adam, Soar is a gorgeous autobiography. Rick Prashaw's unique approach to co-authoring with his late son and his threading together of social media posts into a cohesive narrative is so fresh and exciting.  The themes of non-conforming gender identity, the varied pressure of academia, and the lonely-yet-public stage of social media offers instructors multiple opportunities to bring theory to life.  More broadly, the challenges of young adulthood will resonate with many post-secondary readers."
– Jennifer Ball; Professor of Sociology, Humber College
"A moving, powerful, valuable book because of its story, but more importantly because of the intensity of the first-person account of Adam's life and legacy provided by the author…Though I read much of the book through tears, I came away moved by the joy with which Adam lived and that his spirit continues to inspire…The overwhelming message of Soar, Adam, Soar is that Adam's love of life conquered and continues to conquer all." – Dr. Colleen Humbert, editor and academic
"Soar, Adam, Soar is a deeply moving account of tragedy and triumph. Parts of this tale are so compellingly unique that they are hard to imagine. Yet, at the same time, it is a story of love and courage that it is universally recognizable. Thank you, Rick Prashaw, for your raw honesty." – Alex Munter; CEO, Children's Hospital of Eastern Ontario
"Adam's story is incredibly rich and very moving…Like any great piece of drama, this story deserves to be heard by a huge audience." – Ernest Zulia, American playwright