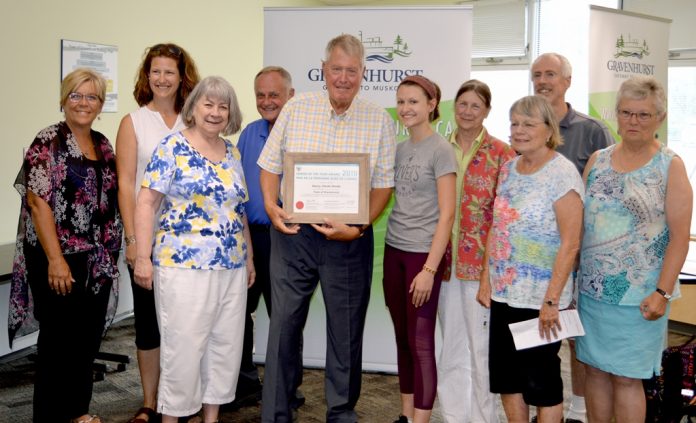 Gravenhurst resident and ambassador for historical preservation, Hank Smith has received the 2019 Ontario Senior of the Year Award in Gravenhurst. Mayor Paul Kelly and Members of Council presented Hank with the distinguished honour during Gravenhurst Council on Tuesday.
"I'm excited for Hank, he is a true volunteer and ambassador of the history and heritage preservation of our
community and is fondly referred to as "Heritage Hank" by his peers. Hank is a perfect example of the incredible contributions that seniors continue to make in Gravenhurst," said Mayor Paul Kelly.
A retired Principal from the educational system in Muskoka, Hank has been an active member in the community ever since. Instrumental in the creation of the Gravenhurst Municipal Heritage Committee, Hank has been an important member of the committee since its formation in 2008. During that same time, Hank has been a member and
volunteer with the Muskoka Steamship and Historical Society sitting on the Board of Directors, working with the planning committee for the construction of the museum building and the development of the volunteer program.
Also involved in the Rotary Club of Gravenhurst, Hank has been recognized with the Paul Harris Fellowship Award, one of the highest honours Rotary can bestow upon a person. Recipients are Rotarians and community
professionals, in recognition of their outstanding contributions, exemplifying the highest ideal in Rotary in placing "Service above Self".
The Ontario Senior of the Year Award gives each municipality in Ontario the opportunity to honour one outstanding local Ontarian who after the age of 65 has enriched the social, cultural or civic life of his or her community.