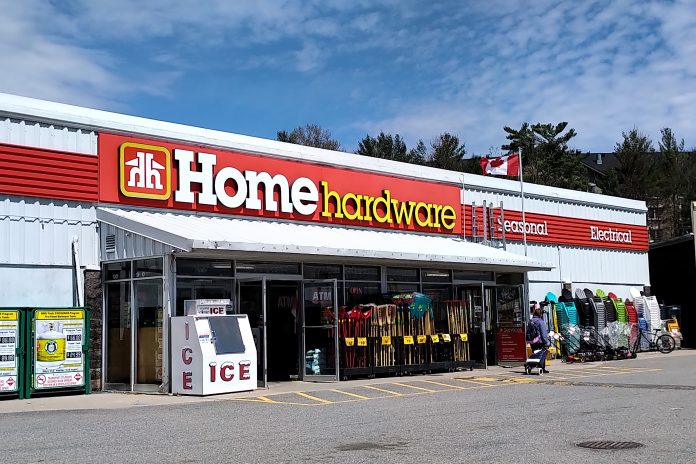 Ian and Tara McNaughton, owner-operators of Gravenhurst Home Hardware and Stedmans V & S Department Store, announced plans for the relocation and expansion of their businesses on April 25 as part of Gravenhurst's downtown revitalization.
The new Home Hardware store will offer an 80 percent larger retail space and is set to open in the spring of 2020. The new store will include components of Stedmans V & S, including toys, giftware, stationery, hardware, housewares, cleaning materials and greeting cards. For Stedmans, the fashion, footwear and yarn offerings will become the focus of the new Main Street store, which will operate under a soon-to-be-unveiled name and is scheduled to open this fall. Long-time Stedmans manager Margaret Belleau will continue to run the new store, focusing on core product lines to improve the retail experience for customers.
"We couldn't be more excited to welcome Home Hardware to their new location in Historic Downtown Gravenhurst," said Gravenhurst BIA Chair Dave Campbell. "The additional traffic to their popular location will help enhance and revitalize the north end of town."
With the additional retail space, the McNaughtons plan to add elements such as a full outdoor-living and barbecue department as well as a 'Make your Dream Bathroom come true' bath shop, where customers can find everything from tubs, fixtures and fittings to towels and decor. Even though the new Home Hardware space will be almost double the size of the current location, Ian said they are going to deliver back that small-town hometown hardware store experience.
"It's not going to feel like a big box store," Ian said. "It's going to feel like the cozy downtown hardware store you probably remember from when you were a kid."
All of Home Hardware's employees will be retained for the new location, and with expanded service and expanded size, the McNaughtons will be looking to grow the team as well. Interested applicants are encouraged to drop by Home Hardware's current location to pick up an application.
"I am so excited for the new, bigger space," said Kendra Weisflock, store manager of the Gravenhurst Home Hardware. "We are going to be able to offer more products, more experience and serve our customers even better than we do today! The new Indoor BBQ Kitchen Experience Centre will be truly one-of-a-kind in the area."
The reorganization and relocation will also improve parking, which was a consistent concern for customers who found it difficult to turn left onto Muskoka Road safely or who object to the speed of some drivers in the shared lot, Ian said. The new Home Hardware location will sit beside a full parking lot where the McNaughtons expect there to be at least 40 parking spaces available to customers, even during peak hours.
"We want to congratulate Ian and Tara McNaughton on their relocation and expansion into Gravenhurst's downtown," said Gravenhurst Mayor Paul Kelly. "Investments, like the one announced today, continue to support council's priority to revitalize Gravenhurst's downtown core and to support businesses in building economic and employment opportunities. We are happy that this expansion will fill gaps identified in our recent retail gap analysis as well as serve as another anchor tenant for our business community to band around."