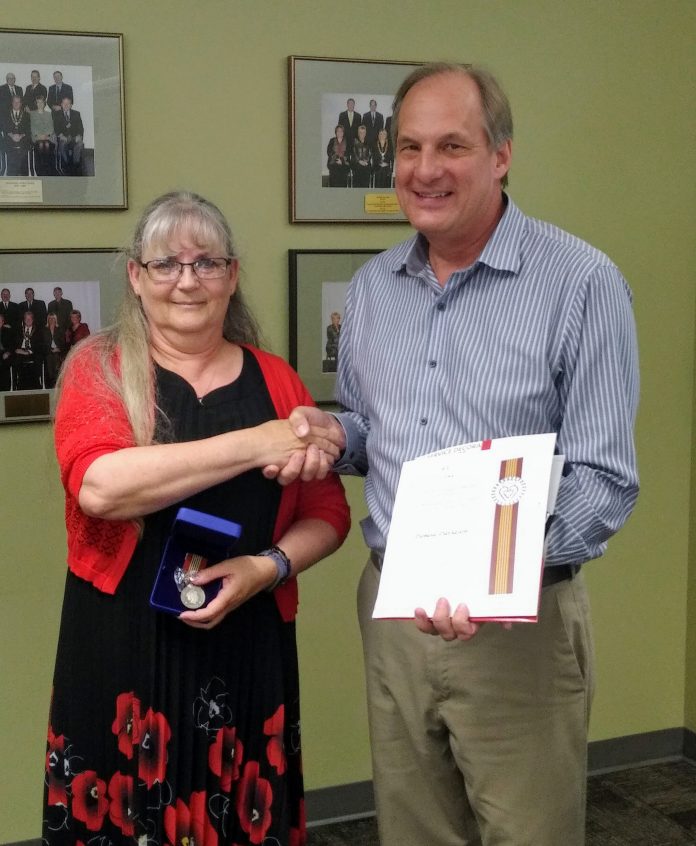 Yesterday during Town Council, Acting Mayor Randy Jorgensen and Council acknowledged the immense volunteer efforts of Mrs. Pamela Davidson of Gravenhurst who was named to receive the distinguished Sovereign's Medal for Volunteers Award. "We are very fortunate to have so many dedicated volunteers in our community like Pamela, it's great to be able to show our appreciation on behalf of the community and we're thrilled that a representative from Gravenhurst is being recognized nationally," said Jorgensen.
"I was shocked to learn I'll be receiving this medal. It is very humbling and unexpected," said Pamela who was nominated for the award by The Royal Canadian Legion District E Deputy Commander Crystal Cook and her husband Jim Davidson.
"I am extremely proud that the powers that be, felt my contributions were worthy of this award. I will wear it with respect and honourably," added Davidson, who was presented with the award during the Gravenhurst Town Council meeting.  Pamela has been an active volunteer in our community for more than 20 years, committing countless hours to fundraisers and activities in support of the Royal Canadian Legion. She is also heavily involved with volunteering with the Muskoka–Parry Sound Addiction Outreach Services.  "The best part of volunteering is definitely the people you meet. My family and community are the most important things in my life. If I can be helpful, I will do my best to assist," explained Davidson.
The Sovereign's Medal for Volunteers recognizes the exceptional volunteer achievements of Canadians from across the country in a wide range of fields.  As an official Canadian honour, the Medal for Volunteers incorporates and replaces the Governor General's Caring Canadian Award. The Medal builds on the legacy and spirit of the Caring Canadian Award by honouring the dedication and commitment of volunteers.  Any person who is a Canadian citizen and who has made significant, sustained and unpaid contributions to their community in Canada or abroad is eligible to receive this award.
Description of the Medal
The Medal for Volunteers consists of a silver circular medal that is 36 mm in diameter with a suspension ring. The obverse depicts a contemporary effigy of the Sovereign, circumscribed with the inscription in capital letters of the Canadian Royal Title and the word "CANADA", separated by two maple leaves.  The reverse indicates the ideas of caring and generosity, represented by two interlaced hearts. The sunburst pattern of the rim symbolizes the time that volunteers are giving and their actions. The ribbon uses the viceregal colours of blue and gold. The five gold stripes evoke the fingers of a hand, present in the Caring Canadian Award emblem, while the deep red colour is associated with royalty.