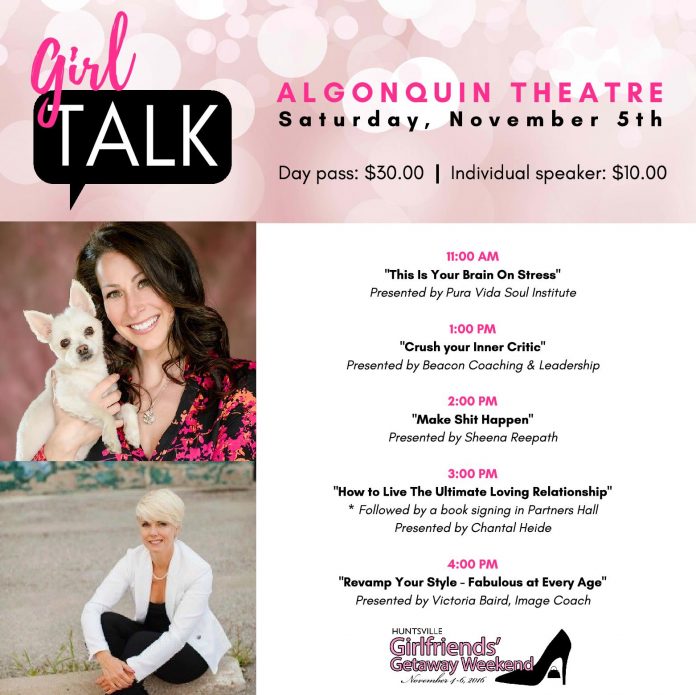 Join the conversation!!!  Girl Talk focuses on beauty, health, love and self improvement – all topics connected to the modern woman. Five outstanding 'Ted Talk' style discussions for $30 or individually priced at $10 featuring the following dynamic women.
It's all happening at the Algonquin Theatre on Main St in Huntsville on Saturday, November 5, 2016 from 10:00 a.m. to 5:00 p.m.
11:00 A.M. This is Your Brain On Stress – Pura Vida Soul Institute, Jennifer Kavanagh
Do you experience stress? Learn how stress affects your body and brain in ways you never knew possible. This interactive workshop will also teach you simple holistic strategies to find greater balance in life using yoga therapy, meditation, breathing, and movement techniques.
1:00 P.M. Crush Your Inner Critic – Beacon Coaching & Leadership, Stephanie Rourke Jackson
What does your negative inner chatterbox tell you? Let's begin to crush this Critic and replace it with truth and productive action.
2:00 P.M. Unleash Your Inner Unicorn and Make Sh*t Happen – Sheena Repath
Ever wonder why some people can make things happen while others seem to be spinning their wheels with nothing happening at all? Do you have ideas and never ending to-do lists that never amount to much? We'll show you why setting goals is killing your productivity and teach you our powerful 'unleash it strategy' that the most successful people in the world use to turn every idea into action that will light you on fire.
3:00 P.M. How to Live the Ultimate Loving Relationship – Chantal Heide
Break through and find out how to connect more intimately with yourself and your loved ones with this engaging and insightful workshop.  Get a copy of Chantal's latest book 'No More Assholes' signed by the author!!!
4:00 P.M. Revamp Your Style – Fabulous at Every Age – Victoria Baird, Image Coach
Kick your image up a notch head to toe with this interactive workshop, Find your style personality: how to make current trends work for your age, body type and professional/personal life. Plus a tongue in cheek look at common mistakes mid-life women make and how to avoid them.
PURCHASE TICKETS – https://www.eventbrite.ca/e/girl-talk-tickets-28173970103
FOLLOW ON FACEBOOK – https://www.facebook.com/events/1068262623293015/