A family of four is recovering from a head-on collision that left their car mangled and unrecognizable, but despite their injuries, they feel touched by angels to be alive after a wreck that could've taken any or all of their lives.
Matt and Cheryl Caverson left home on Jan. 18 with their two kids Kaelyn, 9, and Kaleb, 7, to go to a family get-together. While driving on Muskoka Road 38, a two-lane district road, the family was hit head-on by another driver near First Nation Liquidation in Bala around 6 p.m. All four family members sustained injuries and their car was totalled. The driver of the other vehicle tried to flee the scene, but due to the condition of their vehicle as well as personal injuries, they were unable to get far. The driver ultimately left their vehicle in a ditch and was taken to the hospital after returning to the scene. Authorities told the family that the driver had a suspended license.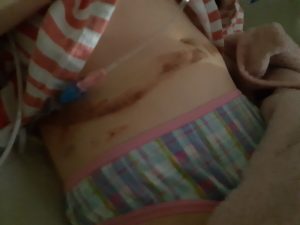 "I did not see what had happened, but I was right behind the ambulance service on my way out there," said Deanna Minz, Matt's mother. "When I [saw] the car, I just broke down. I was beside myself to see such an accident and everyone was alive."
Minz stayed with her family in the hospital on the night of the collision and took Kaleb when he was discharged the next morning. Kaelyn was moved to Sicks Kids Hospital by ambulance since helicopters were grounded due to Toronto weather conditions. Matt and Cheryl went to Toronto with Kaelyn.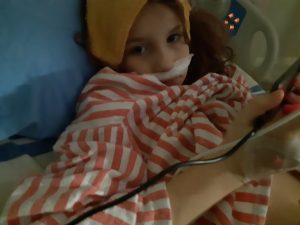 Kaleb remains with Minz in Bracebridge, recovering from a severe concussion and a large cut between his eyes, along with many bruises. Kaelyn is at Sicks Kids Hospital after undergoing exploratory surgery and facing internal infections. Matt and Cheryl are with their daughter at the hospital in Toronto and are also recovering from their own injuries. Matt has muscle tears, a bruised kidney, a fractured rib and a sprained back, while Cheryl has bruises caused by her seatbelt during impact. Minz said they are improving each day.
"I myself, as a mother, never in my life expected to have to go through this," Minz said. "All I can say it that there was a true angel watching over them that night."
Anyone that wants to help with family with costs can e-mail deannaminz71@gmail.com.
See more images of the Caverson's car below.