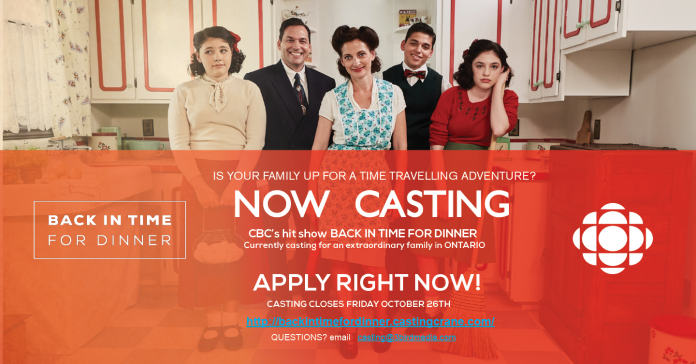 Here is what you need to know:
They are looking for an extraordinary family to embark on a time travelling adventure of a lifetime for Season 2 of CBC's hit show, Back In Time For Dinner.
Other family notes:
Fun loving and food loving
Live in andown a home in Ontario
Live in or around one of the following areas:Grey Bruce, Barrie, Orillia, Muskoka, Collingwood, Peterborough, Kitchener, Waterloo, London
2 or more children between the ages of 13 -21
available January – March, 2019
Canadian citizens/permanent residents
This is an amazing opportunity for a family to star in series on national television!
To WATCH a few Episodes of Season 1: http://cbc.ca/backintimefordinner
HOW TO APPLY:
You can apply now at https://backintimefordinner.castingcrane.com/
Those interested are encouraged to apply as soon as possible! 
Applications close Friday October. 26, 2018