The tenants of 19 Monck Road have more questions than answers just over a month after being forced to leave their building, which was deemed unsafe on April 1.
The building at 19 Monck Road in Bracebridge was deemed unsafe under the Ontario Building Code by Chief Building Official Tom Hookings on the afternoon of April 1. An investigation of the building was prompted by tenant complaints and the resulting unsafe order affects 20 of the 25 rental units in the building, though only 17 of the units were occupied on the day of the order. A five-unit single story section of the building was not affected. Town staff posted the order "to remedy an unsafe building" and a second order "not to occupy" on April 4. The District of Muskoka, the Town of Bracebridge and Muskoka Victim Services held a community outreach information session on April 5, but since then, several tenants say they have been on their own.
Tenant Dustin John Wayne Appleton will be staying at grandfather's home in Kilworthy long-term with his wife and daughters. He said that while he's not concerned about his long-term accommodations at the moment, he got the impression that others tenants had to find their own way to sort out a new place. Now he's finding that his family feels on their own as well.
"We've tried contacting [the district], leaving voicemails, text messages," he said. "Nobody's even bothered to send a text message and say, 'Hey, we're still here.'"
He was trying to contact the district to get some new clothes, but said they never got back to him. He also tried reaching out to the community lawyer's office to discuss getting back April rent and said he never heard back.
"They mentioned if you needed clothes or any help with food or yada yada yada, contact them. Well, we tried that," Appleton said. "At the meeting, they did give out $200 Food Basics cards that the guy there in Bracebridge donated, so we were able to get that. That was really about it."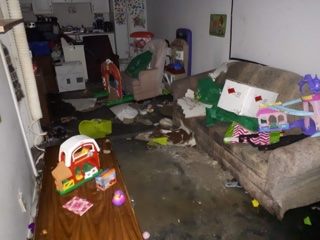 What really bothers Appleton, he said, is the fact that the landlord will not face repercussions  for the state of the building. When he spoke to town officials about charges or other consequences, he said they told him that the building repairs are the consequences and that they would be letting the building sort itself out.
Mel Heatlie, Program Communications Specialist for the District of Muskoka, said that "the district has been successful in assisting tenants in finding alternate, longer-term accommodation for many who were displaced from 19 Monck and is continuing to provide support to tenants who have not yet found longer-term accommodation."
Muskoka Victim Services Program Coordinator Jody North said the service is continuing to provide around-the-clock emotional and practical support for the individuals affected when needed. She said they are available through their crisis line as well as through their regular office line.
One of the tenants, who preferred to remain anonymous, said that she and her partner will be staying at a local motel until the end of May. After that, they don't know where they'll go.
The tenant and her partner have had to bring their child to stay with family due to their unstable living situation. Their two dogs are unable to stay in the motel room alone and one of them won't eat due to stress. Outside of a few phone calls and a meeting with her district worker about relocating motels, the tenant has not received any communication or support from the district or other authorities, she said. Other than the motel stay and a $200 Food Basics card donated by Food Basics manager Dan Lensen, she has not received support.
The tenant said that they also need access to their apartment but have been unable to get in touch with town officials. She said that she had her worker call multiple times and while they've tried to set up a date and time as instructed, they haven't received a response.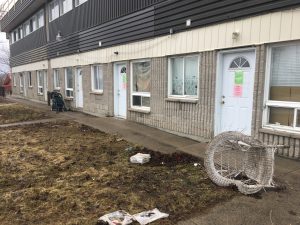 Hookings said that as far as he knows the tenants have taken what they wanted from the building, adding that he met with the last tenants last week to allow them into the building. The new roof has been completed, he said, which was contracted prior to the incident. He has not had any reports or contact from the insurance company on their intentions, so at this time, the building is empty waiting for permits to be applied for to do the required repairs.
A representative for the landlord Zoi Theodoropoulos declined to comment but said that they would have more information available soon. When contacted at a later date, Theodoropoulos refused to provide any updates and declined to comment.
David Doyle said he's also contacted the town about accessing his belongings without receiving a response. He only moved into the building in February this year. Upon moving in, he used his skills as a former carpenter to fix up the apartment, spending two weeks painting the walls and replacing tiles, moulding and other fixtures. The landlord paid for paint and tiles, but his weeks of labour went to waste as he left the apartment just two months after moving in.
He found new long-term accommodation thanks to an application he submitted for subsidized housing about a year and a half ago. When the evacuation occurred, Doyle was moved to the top of the list, which provided him with an apartment that he moved into last Tuesday. Having paid April rent as well as a deposit for the last month, Doyle is now working to get his money back. He consulted with community lawyers, who instructed him to reach out once settled in his new place. He called them on Wednesday and left a message, so he's hoping for a response soon.
Doyle is also waiting to hear back about another important matter: his blood work. He had a kidney transplant 10 months ago, which has required him to eat better and stay healthier. It also means that having a stable environment is important for his health.
"I just recently did bloodwork and the numbers were way off," Doyle said. "My doctor told me to come back in two weeks, which I did yesterday. I'll find out shortly whether being back in a stable environment and eating a healthy diet again brought me back to where I should be."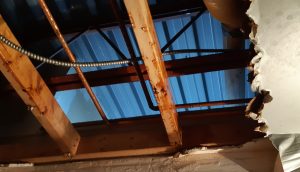 Tenant Jeremy Carr is also in a state of limbo with his 9-year-old daughter, staying at his mother-in-law's house while they seek a new apartment. Following the evacuation, his daughter missed an entire week of school because they were staying at the Travelodge and she didn't have a way to get there. Carr doesn't drive, the walk was too far for a nine-year-old and there was no bus option for her. Things haven't been much easier since then.
Carr said the district informed tenants that they would help with first and last when they found new accommodations, but until then, tenants would be on their own. They helped him with a housing application because his girlfriend is in college, he said, but he's had no luck with finding a new living space, and he hasn't been looking for just for the last month. He and his girlfriend have spent years looking for an apartment. A major reason was the state of the building he said, adding that he has work orders from years ago that were never completed, including orders from former Building Inspector Dave Demerling, Chief Building Official Hookings and the Landlord and Tenant Board.
"I have been looking for a place other than that building for the last three years," Carr said. "The housing crisis here in Ontario, and especially in Bracebridge and Muskoka district, is very bad. The affordable housing is not anywhere near where it should be."
Carr said they are facing consistent issues with rejected applications and rent prices that are out of their budget. With prices around $1,600 or $1,700 for a two bedroom, Carr said the costs force him to decide between feeding his family and paying the bills. His family has struggled with supplies as well after losing nearly everything in the flooding caused by damage to the building and to theft following the evacuation. He was able to get into the apartment and salvage what was left, but he said he has spent $1,100 for clothing for his daughter, food and other supplies in the last month.
"We had to basically go out and spend everything we had," he said.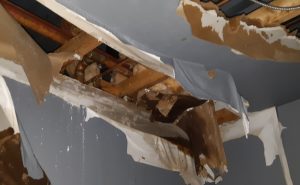 Carr said his girlfriend's worker for Ontario Works offered help earlier in April, but he has not been contacted by the district or any other authority since early last month. When it come to taking action against the landlord, the legal clinic advised Carr that he would have to wait until he found a place to start the process. Carr feels like nobody's giving him a straight answer on anything.
"The boost of media coverage for what happened with the building has kind of died down and now has turned to the flood," Carr said. "Everybody's more concerned about the flood than anybody else or anything else, which is understandable, but you have people that live in that building that have children. Now what do we do?"
To reach Muskoka Victim Services, call 1-844-762-9945. For housing, OW or other emergency financial supports, children and seniors resources, contact the District of Muskoka Community and Planning Services at (705) 645-2412. For building or property inquiries, contact the Town of Bracebridge Chief Building Official at 705-645-6319 ext. 257.
Read the original article about the building closure below.
[Photos] District Working With Bracebridge To Help Residents Displaced From Unsafe Building