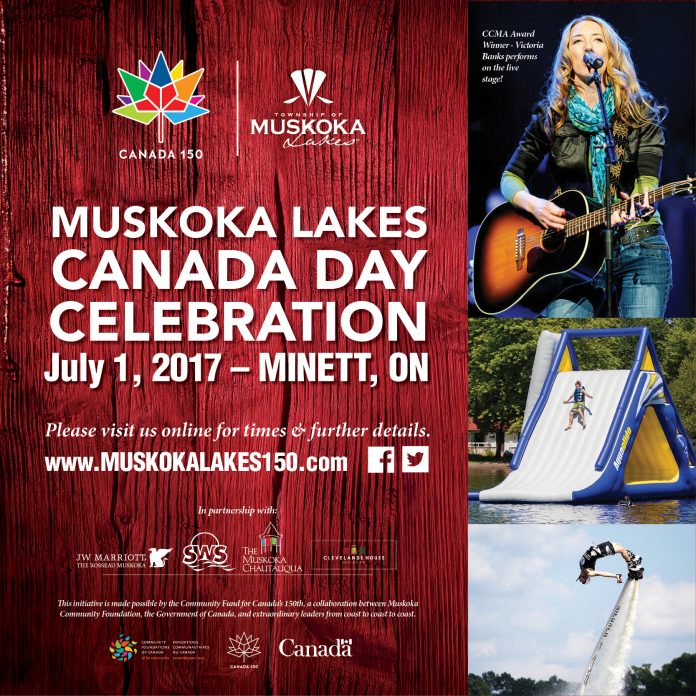 In 2017, Canada will be celebrating the 150th anniversary of Confederation. A pivotal milestone for our country that allows us to connect with our past, celebrate who we are, honour our exceptional achievements, and build a legacy for tomorrow. Like communities across the country, Muskoka Lakes will be celebrating.
The Township of Muskoka Lakes in partnership with Clevelands House, Muskoka Chautauqua, SWS Marine and JW Marriott The Rosseau Muskoka, will be hosting a Community Canada Day Celebration in Minett, Ontario on Saturday, July 1, 2017.
The local community and visitors to the area are invited to participate in activities such as a kids zone with help from the Muskoka Lakes Fire Department, regatta games, art mural creation, s'more pits, yoga, pancake breakfast, water park, live music and more. The live entertainment will feature Port Carling's own, Victoria Banks, courtesy of Fixtures – Hardware and Plumbing. Victoria Banks has been nominated for 11 Canadian Country Music Association (CCMA) Awards and was named CCMA Female Artist of the Year and Songwriter of the Year in 2010. The night will finish with a fireworks display in Wallace Bay, Lake Rosseau, courtesy of Muskoka Chautauqua and the JW Marriott The Rosseau Muskoka.
The event is free to attend and open to the public. Associated costs may apply for specific activities. A full list of activities, times and details can be found at www.muskokalakes150.com. Follow on Twitter @MuskokaLakes150 and on Facebook @MuskokaLakes150.