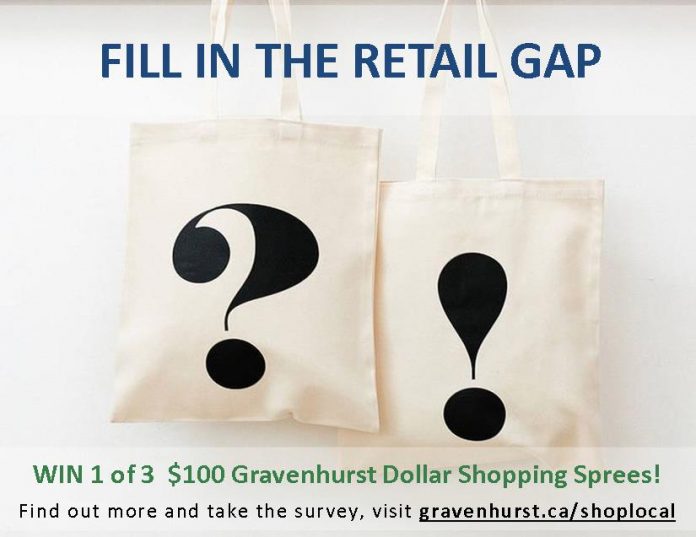 What products and services do you feel Gravenhurst is providing well? What are some the products that you would like to be able to buy locally? These are just a few of the questions that the Gravenhurst Economic Development team is looking to find out from the community and your input could be rewarded with $100 in Gravenhurst Dollars, just by participating in a short survey.
"What we're undertaking is 'Retail Gap Analysis'," said Jeff Loney, manager of economic development. "Input from our community is essential in understanding where certain gaps may exist in the retail sector. We'd like to gain a
better understanding of the areas where we can promote growth and opportunity and build on the existing retail
landscape."
Communities which have a variety of shops, restaurants and entertainment opportunities are considered local retail hubs. These communities service the local population and help attract visitors to the area.
The 'Retail Gap Analysis' project supports a number of goals outlined in the Town's 2015-2020 Strategic Plan, and will aim to build a comprehensive list of current retail sector businesses and identify consumer shopping habits and needs.
People who live, work or visit Gravenhurst and surrounding areas are encouraged to TAKE THE SURVEY and/or participate in various public engagement opportunities planned over the next few months.
A final report will be developed, which will provide an overview of data and detail specific types of commercial
establishments which should be targeted as part of a larger investment attraction campaign, planned for spring 2018.
Those who take the survey or participate in other retail gap analysis engagement initiatives will be entered into the 'Shopping Bags Contest' for a chance to win 1 of 3 $100, Gravenhurst Dollars 'shopping sprees'. Winners will be chosen at random and contacted on Monday, December 11, 2017, just in time to finish up their holiday shopping!