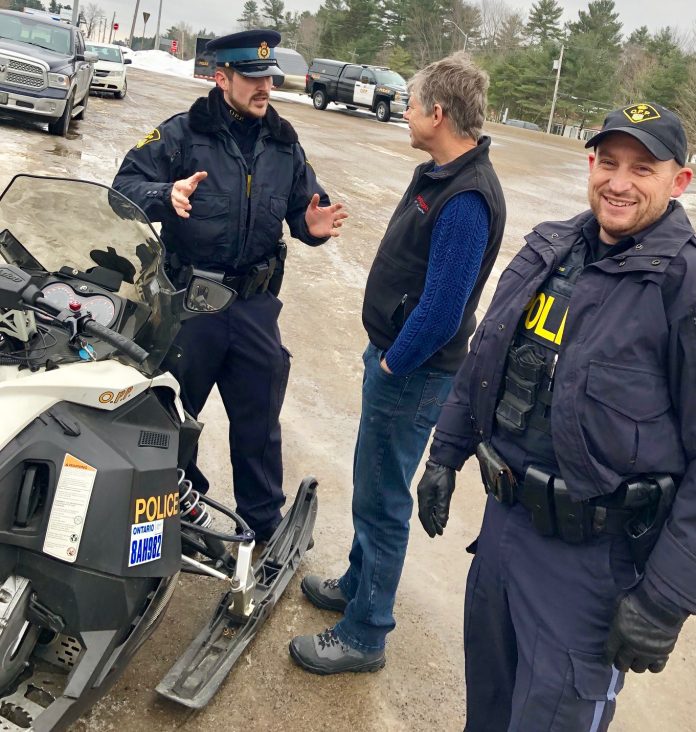 Northland Recreation had a busy Saturday after partnering with the Bracebridge OPP and Snowcrest Riders Snowmobile Club to host an information session about snowmobiling at their store on Hwy. 11 northbound on Jan. 5 between 1 and 4 p.m.
"It was a good turnout and several dozen people popped in specifically for [the event]," said Ed Medved, a sales representative for Northland Recreation. "The theme was to provide education and awareness from a safe operation perspective to promote responsible and safe operation of snow vehicles throughout Muskoka and beyond."
The session was held at Northland Recreation's store just south of Gravenhurst in Kilworthy. Members of the Bracebridge OPP attended to do sled checks and give safety advice while representatives from the Snowmobile Club answered questions about trails and events. Northland Recreation staff also answered questions about gear and supplies, including Medved, who used to be a member of the OPP.
"It was great in terms of reconnecting with some of my former colleagues and I've got a new perspective on the sport of snowmobiling from a retailer's perspective, so I was able to add an additional layer of insight," Medved said. "When power sport enthusiasts are asking a lot of good questions, [I'm] able to provide some additional insight from my former career as a law enforcement official."
See photos from the event below.