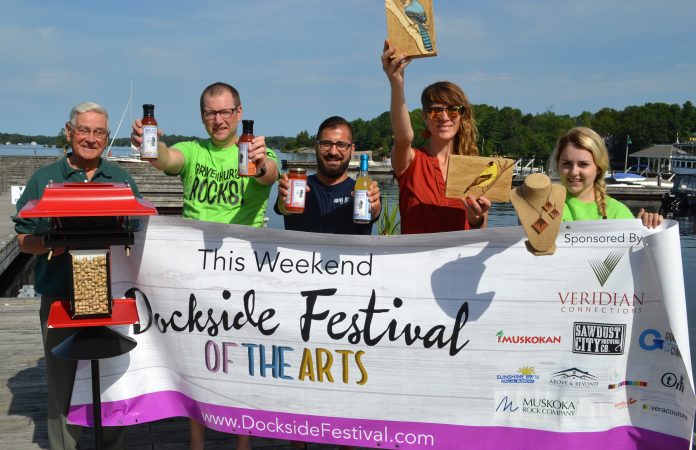 Cricket flour protein bars, cold brew coffee and wax linen jewelry – anyone ready to take a trip off the beaten path when it comes to handicrafts and edible delights should set their sights for the Veridian Dockside Festival of the Arts, August 18, 19 and 20, 2017 at the Muskoka Wharf in Gravenhurst.
Festival organizers expect up to 100 vendors and several thousand guests for the three-day festival, which is now entering its 26th year.
"We have an incredibly eclectic mix of vendors attending this year's festival," says Sandy Lockhart, executive director of the Gravenhurst Chamber of Commerce, who organize the event. "We have blacksmiths and candlemakers, clothing designers, silversmiths, woodcarvers, painters and photographers. These are some of the finest artisans and craftspeople, and they come from across the province to attend this show."
This year, Dockside will also host live music throughout the weekend at the Sawdust City Food and Music Lounge.
Sean Cotton, Gina Horswood and Nico Henderson each provide a unique sound and style, and  are sure to entertain. Cotton will perform on Friday from 12 to 2 p.m., Saturday from 10 a.m. to 12 p.m., and Sunday from 11:30 a.m. to 1:30 p.m. Henderson is performing on Friday from 3 to 5 p.m., Saturday from 12:30 to 2:30 p.m., and Sunday from 2 to 4 p.m. Horswood will perform on Saturday from 3 to 5 p.m.
There will be no shortage of family fun at the KidZone, with take-home cottage crafts from the chamber, a live reptile booth with START (Saving Turtles At Risk Today), face painting and numerous activities from the Muskoka Discovery Centre.
The Veridian Dockside Festival of the Arts runs from 10 a.m. to 6 p.m. August 18 & 19, and from 10 a.m. to 4 p.m. on August 20 with admission by donation.
Photo Credit: Gravenhurst Chamber of Commerce