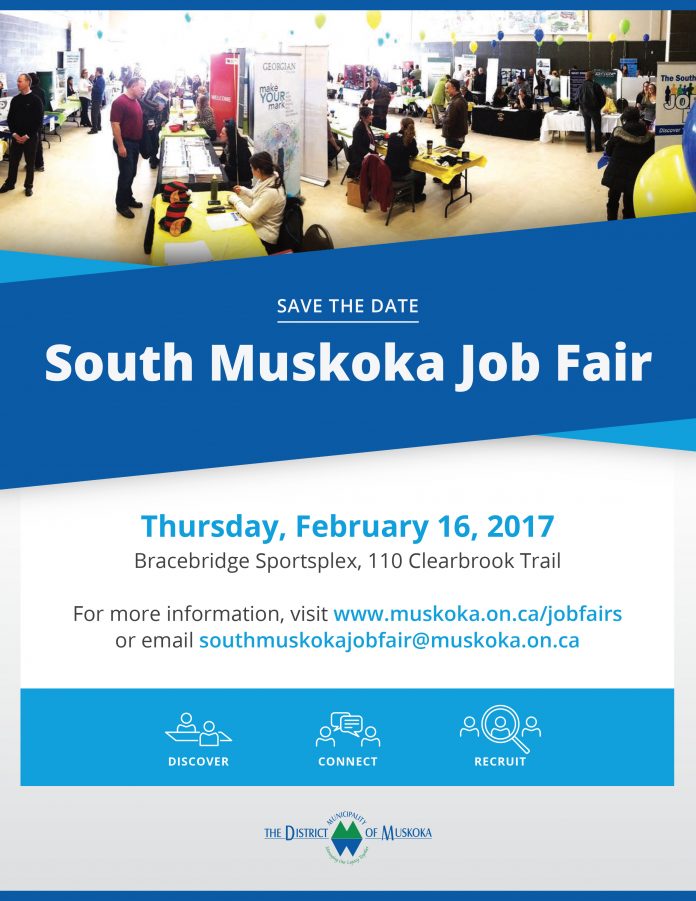 The District of Muskoka will host the 10th Anniversary South Muskoka Job Fair this Thursday, Feb 16, 2017.  The fair will run from 10:00 a.m. to 3 p.m. at the Bracebridge Sportplex and is sponsored in part by the Town of Bracebridge and the !mpact Cafe. The event's tagline "Discover * Connect * Recruit" reflects the fair's main goal to connect people looking for work with employers looking to hire.
55 exhibitors have registered representing hiring employers and other community and economic development agencies.  Leading up to the event, Employment Centres in Gravenhurst and Bracebridge are running Job Fair Prep workshops to help prospective workers prepare their resumes and plan their visit to the job fair.
The event is very important to local businesses recruiting for the busy summer season in Muskoka.   Comments shared by exhibitors after last year's fair include:
"We usually get quite a few resumes. At least a dozen would lead to an interview."
"Provides opportunity to recruit early in the season."
"We come every year to find seasonal staff for the upcoming season."
"Like to support community events and employ locally."
"Great turn out year after year, hits the people we need."
"Had a good turn out last year and wanted to build on that foundation."
Information for Job Seekers and directions to the fair are available at http://www.muskoka.on.ca/en/south-muskoka-job-fair.aspx  or stay up to date on Job Fair news at www.facebook.com/southmuskoka.jobfair.
The District also works with organizers of the Huntsville Job Fair, which will take place on Wednesday, March 8 between 1:00 p.m. – 5:00 p.m. at the Active Living Centre, 20 Park Drive, Huntsville.   Learn more by visiting www.muskoka.on.ca/jobfairs