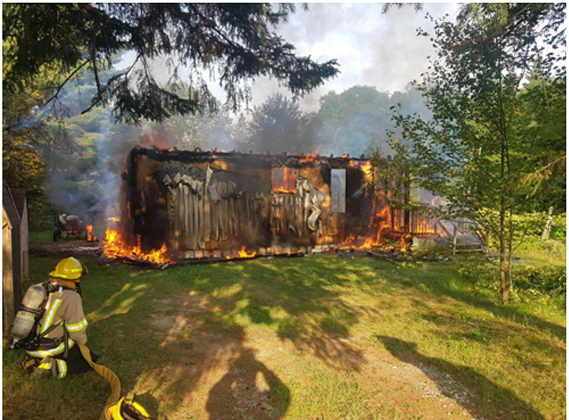 On Monday August 6, 2018 at 7:50 a.m. Gravenhurst fire crews from stations 1, 2, and 3 responded to a structure fire at 1312 Barkway Road in Gravenhurst on Barkway Road. First arriving crews found the home fully involved.  Due to the extent of the fire, additional water tankers were requested from the Bracebridge Fire Department. Crews on the scene had to battle through hot and humid conditions to extinguish the fire. The cause is not considered to be suspicious, however further investigation has been initiated.
A neighbor tells Muskoka411 she heard an explosion and called for help.
No injuries were reported and the single occupant was helped out of the home by a neighbour. "Early detection was critical in the outcome of this incident," said Todd Clapp, Deputy Chief. "Local residents were very helpful in making the homeowner aware of the situation and helped him exit the home with no injuries."
There is currently no word on a cause for the fire or a damage estimate yet.