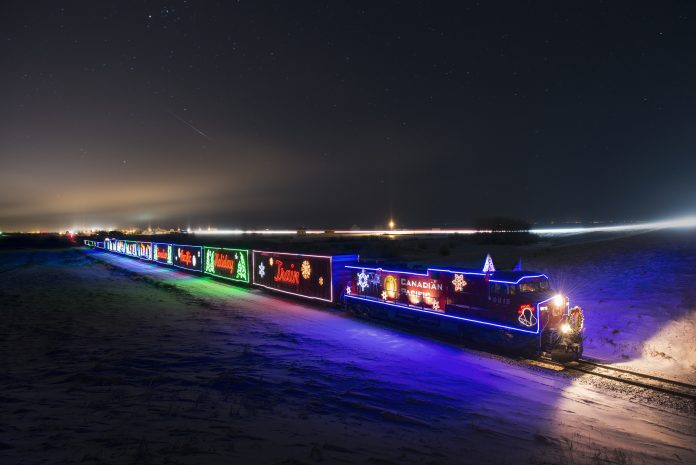 With its biggest ever lineup of Canadian talent, the Canadian Pacific Holiday Train is set to close out Canada 150 with its 19th annual tour and will be making stops in MacTier and Parry Sound along the way.
The CP Holiday Train program launched in 1999 and has since raised more than C$13 million and four million pounds of food for communities along CP's routes in Canada and the United States.
The Train will be stopping in MacTier at the Old CP Station on November 29, 2017 at 2:50 p.m. It will then carry on to Parry Sound, where it will stop at the Festival Station Gallery at 1 Avenue Road at 4:15 p.m. Musical guests Colin James and Emma-Lee will perform at both stops.
Beginning in Montreal, Quebec, on November 25 and 26, 2017 respectively, two trains will make the festive journey, travelling through both the U.S. and Canada to bring holiday cheer to 182 communities along CP's network. Each event is completely free, with CP encouraging every attendee to open their cupboards or wallets to ease hunger needs in their community. Local food banks will be accepting donations at each stop to ensure those less fortunate can access adequate food this holiday season and year-round.
"The Holiday Train program is all about local food banks and food shelves and the critical role they play in our communities," said Keith Creel, CP's President and Chief Executive Officer. "People come for the beautifully-lit train and stay for the incredible show – all in the name of community. The holiday season is the best time of the year, and we look forward to bringing together thousands of Canadians and Americans this season for this incredibly important cause and a great time."
CP is also encouraging fans of the train to donate heart-healthy food, as everyone should have access to healthy, nutritious food, regardless of circumstances. This supports the mission of CP Has Heart, a program dedicated to improving the heart health of men, women and children in North America. To date, this program has raised C$12 million for cardiac care and research.
The 2017 edition of the Holiday Train also concludes CP's Canada 150 celebrations and the Canadian train will feature the Spirit of Tomorrow car, which was part of the Canada 150 Train this past summer.
In line with the Canada 150 celebrations, the CP Holiday Train boasts its most stacked lineup of all-Canadian artists on tour in the program's history, including multiple Canadian Country Music Award and Juno Award winners.
First-time CP Holiday Train stops this year include: St. Constant, QC; Chatham, ON; Neepawa, MB; Yorkton, SK; Bawlf, AB; Okotoks, AB; Oconomowoc, WI; Kasson, MN; and Mahnomen, MN. A full schedule is available at www.cpr.ca/holiday-train.
People visiting the Holiday Train are encouraged to take photos and enter CP's Capture the Spirit photo contest. Participants could win a trip aboard the 2018 CP Holiday Train as well as a $1,000 donation to their local food bank. Further details about the contest will be available closer to the start of the program on the Holiday Train Facebook page at facebook.com/HolidayTrain.
To help make this year the best yet for local food banks and food shelves, the Holiday Train asks fans to follow the train on social media, invite their friends and family and spread the message about the importance of heart-healthy donations by using #HealthyDonations. Supporters can follow the Holiday Train on Facebook, Twitter and Instagram @CPHolidayTrain. As part of Canada 150, CP and the Canada 150 Federal Secretariat are also partnering to promote the Holiday Train and the conclusion of the sesquicentennial celebrations. Use #Canada150 and #CPHolidayTrain as you track the progress of the Canadian train.
Photo Credit: CPR.ca