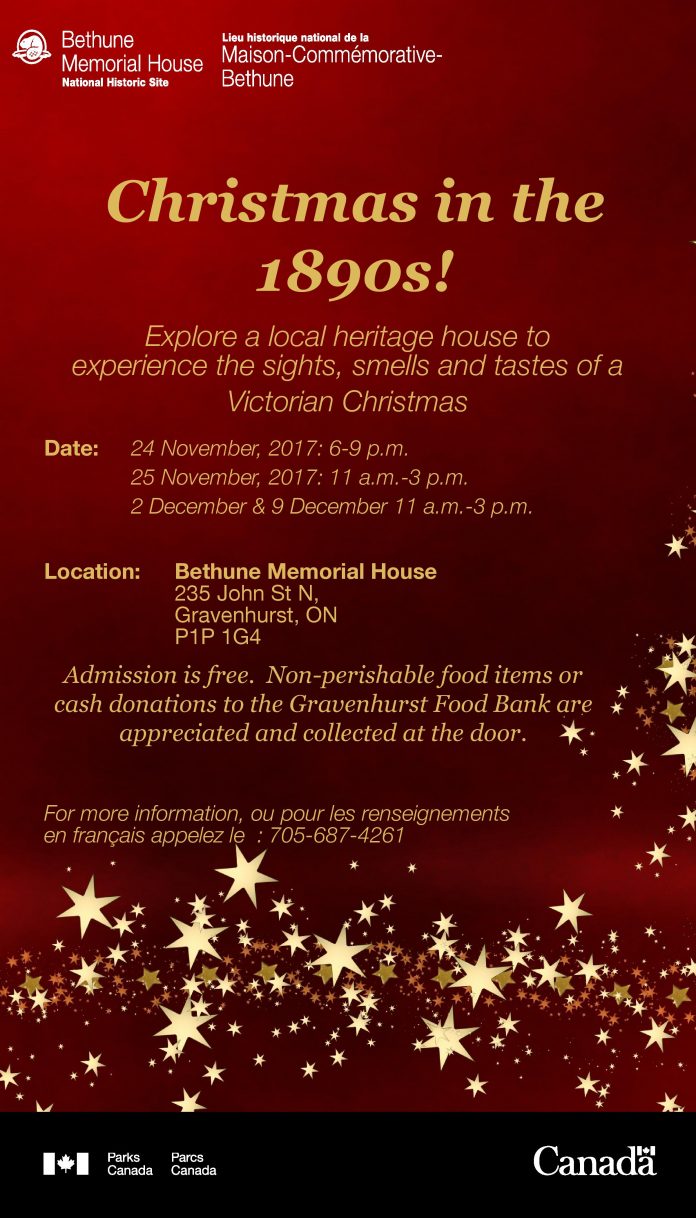 As we celebrate the 150th anniversary of Confederation, Parks Canada invites Canadians to journey back in time to discover how Christmas would have been celebrated at the turn of the 20th Century at Bethune Memorial House National Historic Site. Experience the magic and festive traditions of days gone by through a family-friendly Christmas Open House.
Once the home of Dr. Norman Bethune, the Victorian house will share the fun, warmth, and wonder of an old-fashioned family Christmas on select days in November and December. The national historic site will feature traditional decorations including ornaments, gifts, and over 100 feet of real cedar garland. Visitors are invited to share the warmth of the holidays over hot mulled apple cider and a traditional treat. Dr. Norman Bethune was born at Bethune Memorial House and would have celebrated his first Christmases in the house with his family. Bethune went on to develop vital medical procedures, fostering our country's reputation as a nation with a social conscience and advocating for Canada's universal health care system. Turn back the clock to Bethune's childhood and experience a true Victorian family Christmas.
The historic house will be open on Friday, November 24th from 6 p.m. until 9 p.m., and every Saturday from November 25th until December 9th from 11 a.m. until 3 p.m. In the spirit of Christmas giving, guests are encouraged to bring a cash or non-perishable goods donation for the Gravenhurst food bank.
By encouraging Canadians to visit their national parks and historical places, and providing them with the information and means to enjoy them, Parks Canada allows more Canadians to experience the outdoors and learn about our heritage.
To help visitors plan their experiences, Parks Canada launched a mobile app earlier this season. The app is incredibly popular and, to date, there have been over 150,000 downloads. The Parks Canada Mobile App is a great planning tool which offers up-to-date information and resources to help visitors plan their visit and discover breathtaking locations, including a list of hidden gems, and other unique and memorable experiences at national parks, historic sites, and marine conservation areas.