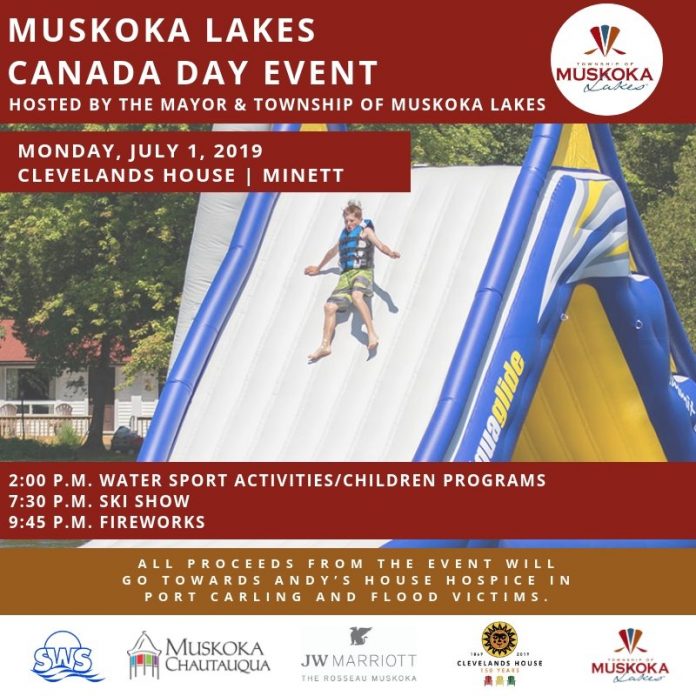 Please mark your calendars for Monday, July 1, 2019 to come to beautiful Clevelands House Resort in Minett to celebrate the first Muskoka Lakes Canada Day Watersport Event in support of flood victims and Andy's House Hospice Muskoka (Port Carling's new Hospice).
Join the Mayor and Council on Canada Day from 2:00 p.m. to 5:00 p.m. for an afternoon of family fun with live music, children's activities presented by Muskoka Chautauqua and various discounted water sports, including access to the water park, fly boarding, wake surfing, and more. At 7:30 p.m. enjoy the famous Summer Water Sports Ski Show and at dusk, the JW Marriott The Rosseau Muskoka presents Canada Day 2019 Fireworks on Wallace Bay in collaboration with Muskoka Chautauqua, Township of Muskoka Lakes, Clevelands House and SWS Wallace Bay Marina. Supported by the Volunteer Fire Department of Township of Muskoka Lakes.
"As Muskoka is all about water fun, what better way to raise money for flood victims and Andy's House than a Canada Day, Family Fun Day," states Mayor Phil Harding. "This event will help kick off summer while providing the public with the opportunity to celebrate all things Muskoka with lots of free activities for the entire family and special discounts on popular activities in an effort to raise money for two worthwhile causes."
Proceeds from the event will be going towards both flood victims and Andy's House Hospice Muskoka in Port Carling. Andy's House Hospice Muskoka is scheduled to open this fall, and is named after Andy Potts, an OPP officer that lost his life in 2005 in a tragic motor vehicle accident while on duty.
For those businesses or individuals who would like to help beyond just attending, we are offering various sponsorship opportunities associated with the event. Please visit www.muskokalakes.ca for full details or email cmoore@muskokalakes.ca.