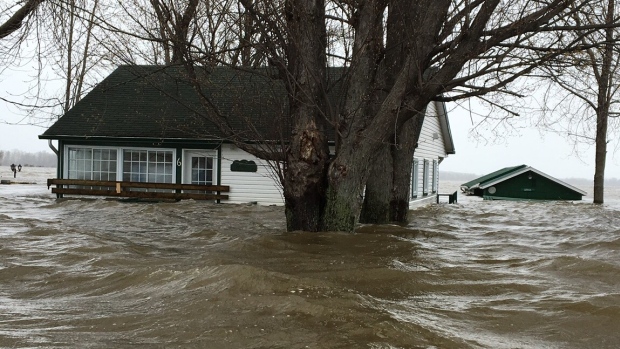 The Red Cross is launching an appeal for financial donations to help Canadian individuals, families and communities affected by flooding in Quebec and several other provinces across Canada. Thousands of people have been forced from their homes as the situation continues to unfold across the country.
The Red Cross is responding to extensive flooding in Quebec, Ontario, British Columbia and New Brunswick and remains on stand-by to further assist.
Local Red Cross volunteers have been activated across the country, providing a variety of services based on the need in each region. This includes support such as reception and information, registration and family reunification, lodging, food, first aid, and providing cots and blankets.
In Quebec, Red Cross is responding in 25 flood-impacted areas including municipalities where a state of emergency has been declared, and providing support at 12 information centres—helping more than 1,400 people in need.
In Ontario, Red Cross is currently supporting five municipalities and is on stand-by to assist other municipalities as needed. Red Cross teams have also been assisting people through our personal disaster assistance program—providing food, clothing, shelter and essential supplies for 72 hours.
In British Columbia, Red Cross is supporting in Lumby, Kamloops and in the regional district in Shulus and lower and upper Nicola. Two Red Cross Disaster Response Vehicles are pre-positioned and personnel have been placed on standby to provide further assistance.
In New Brunswick, Red Cross personnel are on standby and supplies are pre-positioned.
The Red Cross has additional volunteers and supplies pre-positioned across the country, ready to be deployed, if needed.
Canadians wishing to help are encouraged to make a financial donation to the Spring Floods Appeal in one of the following ways:
online at www.redcross.ca
by calling 1-800-418-1111
by contacting their local Canadian Red Cross office
Donors will have the choice to designate their donation to either:
the response in Quebec specifically or;
wherever help may be needed most across the country. This means the donation will be used to provide essential support for any of the most affected regions in Canada.
Donations to the Red Cross will support individuals, families and entire communities affected by the flooding. Support will be provided based on needs identified across impacted regions as we work alongside local authorities. This may include aid in the form of food, clothing, and shelter, or recovery assistance in the form of clean-up materials, household repairs and furniture replacements. The Red Cross will work closely alongside provincial and municipal governments to ensure funds received are used to complement the government's disaster response and aid programs.
Photo Credit: Laurie Fagan/CBC) Ottawa River