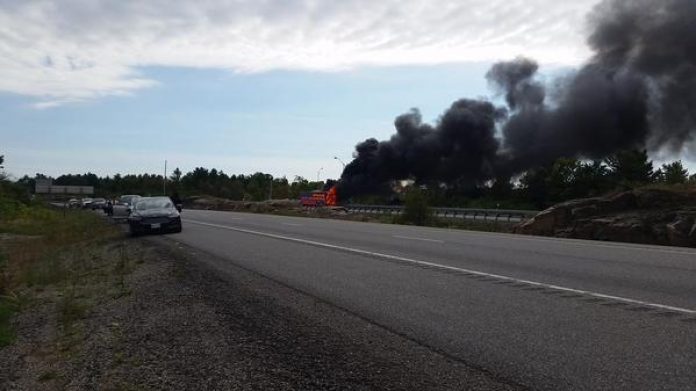 Photo Credit: @SandraPinHH
Emergency crews on scene at a tour bus that's fully engulfed at Hwy 400SB and Crooked Bay Road.
There are reports of some people suffering smoke inhalation – only 1 person's been taken to hospital with minor injuries. Emergency services are having to travel the wrong way on the 400 to get to the scene. Drivers are cautioned to follow all road closures in the area.
It happened just after 2pm – about 44 people were said to be on board, including 40 kids between 12 & 16 yrs old, plus three adults and the bus driver.  Hwy 400 is closed currently South of Crooked Bay Road. Traffic is being rerouted onto Hwy 38. Hwy 400 SB is also closed at South Gibson.
Traffic spotter Jim says he can see the smoke from Midland.
More details as they become available. Check our Twitter account for more updates as they happen.