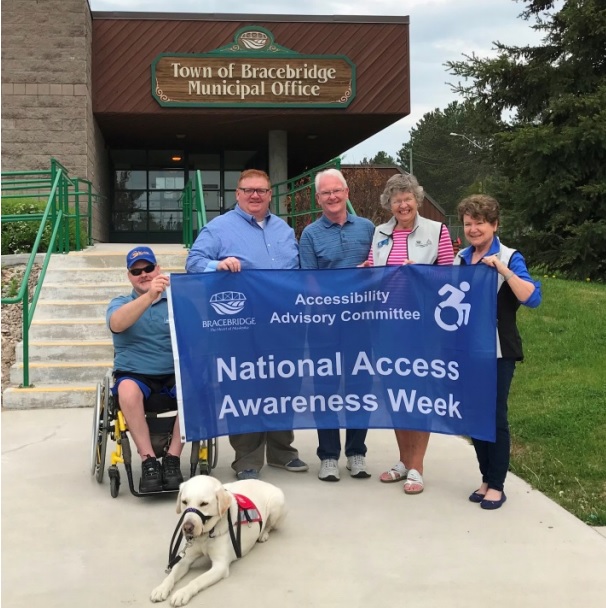 National Access Awareness Week is intended to raise public awareness of barriers that people with disabilities face and to find ways to help remove these barriers. Mayor Graydon Smith and Members of the Town's Accessibility Advisory Committee met recently to raise a flag in honour of this week.
Councillor Steve Clement, Chair of the Bracebridge Accessibility Advisory Committee, said, "The Committee always wants to do more than raise a flag to mark this important week. This year we decided to have a display at the Bracebridge Farmers Market to highlight important accessibility initiatives that are happening. "We promoted the next two locations where audible traffic signals are scheduled for installation later this year. Visitors to our booth got to see the units up close and personal and understand how important these units are to the safety of pedestrians with vision impairments."
In addition, the Accessibility Committee also highlighted a new technology app called AccessNow. This free app allows the public to find and rate accessibility of restaurants, hotels, stores, bars and more. Its goal is to map as many places as possible globally so that people with accessibility issues have a tool to identify businesses that are available to them. This is especially as Canadians with disabilities spend $25 billion every year and influence the spending decisions of 12-15 million other consumers. Over the next 20 years, the number of people having disabilities will increase as the population ages.
The Town of Bracebridge is committed to providing enhanced accessibility to the community and continues to work toward equal access for all residents through the Town's Accessibility Advisory Committee (AAC). The AAC is a volunteer citizen's advisory committee providing advice to Bracebridge Town Council on the identification, removal and prevention of barriers in the town's by-laws, policies, programs and services. For information on the Town's accessibility initiatives, visit the Town's accessibility page at www.bracebridge.ca.